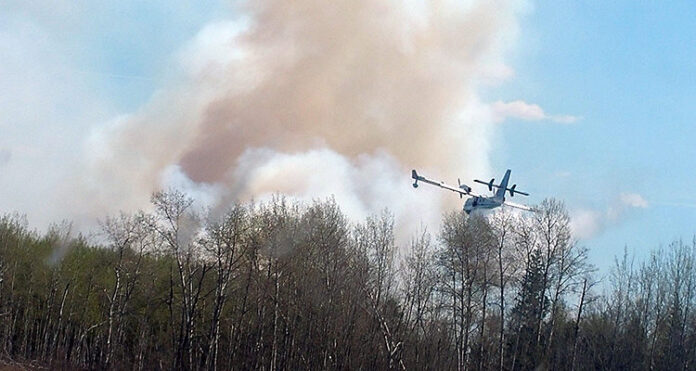 by Phil Ambroziak
It's been a busy spring for fire crews at both the municipal and provincial level.
While fire bans remain in place for both the city and RM of Meadow Lake, that doesn't mean firefighters haven't been kept on their toes as of late.
"The fire ban affecting the RM and the city of Meadow Lake will remain in place for the foreseeable future," explained Meadow Lake fire chief Neil Marsh. "All outdoor burning is prohibited, including fire pits, fireworks and burning barrels. People are asked to be extremely careful and to be aware any source of heat, such as ATV or other vehicle exhaust, can easily cause a fire."
Earlier this week, Meadow Lake firefighters responded to at least two grass fires along the north side of Railway Avenue, as well as a brush fire east of the city late Sunday morning. The latter, which also occurred on Flying Dust First Nation land, was also attended by members of the reserve's fire brigade and wildfire management crews from the provincial Ministry of Environment.
"Saskatchewan Environment crews and aircraft attacked the fire along with fire crews from Flying Dust and Meadow Lake," Marsh reiterated.
While the blaze was eventually contained, Steve Roberts, executive director of the ministry's wildfire management branch, said there are numerous fires still burning throughout the province.
"We've certainly seen an early start to the fire season," Roberts said. "So far, we've experienced 102 fires throughout the province whereas, at this time last year, we had 81. As of right now, 12 of those fires are still active, but all are contained."
Roberts went on to say, at this time of year, the majority of wildfires the province responds to are human caused.
"Whether someone's burning debris and it gets away on them, or if it's a ditch fire caused by the exhaust from an ATV, any fire not caused by lightning is considered human caused," he noted. "Only two wildfires so far this year were caused by lightning."
That's why Roberts warns the public to be careful when it comes to their everyday actions that could lead to a fire, although he did admit most fires at this time of year rarely get out of hand.
"Very few are larger than 50 hectares and they tend to be grass fires restricted to the fringe of the forest and farmland, or adjacent to communities," he said. "The bulk of the fires we've seen this year have been along the line from Prince Albert to Meadow Lake. There's been a little more moisture in the eastern part of the province, but when it's warm and dry it doesn't take much."
Meanwhile, of the 102 fires reported throughout the province, Roberts said 48 of them have been in the northwest including the Meadow Lake, Big River, Buffalo Narrows and La Loche areas.