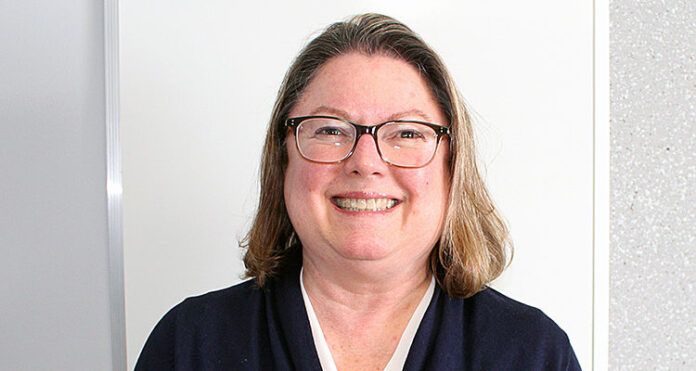 An import from Ontario, Ile-a-la Crosse School Division director of education Laura Vilness has spent the last 35 years forging an identity in Saskatchewan. Recently, Laura spoke with Northern Pride about the nine-hour commute from home and work, what it's like working for a small division and what keeps her going.
Q: How long have you been the director of education for the Ile-a-la Crosse School Division?
A: I started Aug. 1, 2014. I began teaching in the Northern Lights School Division about 35 years ago. I came from Ontario, but my first teaching jobs were in Deschambault Lake, Buffalo Narrows and La Loche. Then, I met my husband, Brad Vilness, who is from Gull Lake, SK, so I spent about 27 years in a variety of positions in school divisions. A superintendent position opened in Northern Lights about four years ago and I applied and got it. I was located in the Beauval office and I looked after schools on the west side such as Buffalo Narrows, St. Georges Hill, Beauval and Pinehouse Lake. I was a superintendent for three years and then this position came open and I applied for it and that's how I ended up here.
Q: Is it a unique school division?
A: There are unique things in every school division I've worked in. I've worked in rural and city school divisions in southwest Saskatchewan. I've also worked in northern school divisions and I've seen unique things in every environment. This is a provincial school division, so it's not unique in that perspective, but certainly the local culture, history and environment are unique.
Q: What's it like to work for such a small division?
A: It's nice. When I was in Northern Lights, I was quite connected to the schools, but here the ability to be directly connected on a daily, weekly, monthly basis as needed so it's easier. There's no on-the-job travel as far as school division matters, but there's certainly provincial travel.
Q: What's it like working with such a close school board?
A: It's good because I get to know a lot of people. You get a collaboration ongoing because everyone is right here. The school board very much belongs to the community and they're passionate about education – as all school board people are – but certainly they know and understand their community. It's a special relationship in that aspect.
Q: How was moving from Ontario to northern Saskatchewan like?
A: It was a culture shock because I grew up in southern and central Ontario. I spent time as a child and teenager in the Greater Toronto Area. I went to university for my bachelor degrees in southwestern Ontario. It was a new and unknown environment. It was more isolated at that time than it is now. I started in Deschambault Lake and the Hanson Lake Road wasn't even paved until you got to Pelican Narrows or Flin Flon, MB. I wouldn't have had a cell phone or Internet access. I wrote letters. I was quite isolated, but it was an adventure. There were no teaching jobs in Ontario at that time too, so I wanted a job and it was a great opportunity. When I came over to the west side, I was less isolated and the communities were bigger.
Q: What was hard at that time?
A: At that time in Deschambault Lake and La Loche, students came to school speaking Cree and Dene. La Loche has retained a lot of the Dene, but I'm not sure if Deschambault Lake has retained the Cree. But, 35 years ago, when I was a Grade 1 and 2 teacher, I was teaching children both how to speak English and the literacy skills. That was new to me because I had no background in indigenous languages. Our framework for programs was developed as we went. Our resources were a lot more limited. The supports for teaching English as a second language were almost non-existent at the time. The kids were always great because kids are kids. It was like jumping in because there was a lot of opportunity to develop teaching skills. It was a good way to start my career.
Q: Tell me about your education.
A: In 2011, I completed a doctor of education degree in educational leadership from the University of Calgary. Before that, I earned a Masters of Education degree in educational psychology at the University of Regina. I worked for about 12 years as a school psychologist in the Swift Current area. I'm still a registered psychologist even though I don't actively practice. At some point I may go back to it, but it's just to stay current.
Q: What keeps you involved in your field of work?
A: I really enjoy being part of K-12 education. I have had a lot of roles, but it has always been about support students, teachers and administrators. No matter what I was doing, the primary focus was always on student learning and programs. In the more recent years, it's been more about working with school-based administrators. That's been a big part of my job here. But, I just enjoy education and supporting it.
Q: Do you have a family?
A: Brad and I have two boys. Bryn is 27 and he lives in Vancouver. He's thinking about going into education. He has an undergraduate degree in interactive arts and technology dealing with media related education. Brendan is 24 and he works at home with his dad on the ranch near Gull Lake.
Q: Is it hard juggling your job and home life?
A: Yes. It's about a nine-hour drive to get home. I'm there for long weekends and more extended holidays. It's a bit of a challenge, but I enjoy the work so much that right now it seems worthwhile.
Q: How long has your family been ranching?
A: About 30 years – equivalent to the length of our marriage. It coincides. It's a family ranch and he bought out his grandfather's share. It's been in his family for more than 100 years. It came up through his mother's side. He has 300 cows and there are bulls. In the summertime, there are over 600 because it's a cow-calf operation.
Q: Was ranching new to you?
A: It was totally new considering where I came from. My grandfather was a dairy farmer, so I had a little bit of exposure to rural life, but it wasn't anything like the cattle ranching country in Saskatchewan. I've never helped out much because I always worked. The first years we were there, there was a drought and a lot of grass fires. That would have been in the mid-1980s. It was scary, but it was another learning experience. I have put myself in life situations that are quite different than where I came from. I don't know why, it just kind of unfolded that way.
Q: What are your interests away from work?
A: I enjoy travelling and I do that as much as I can. I like to go to Europe such as the United Kingdom and Ireland. I would like to go to Asia at some point. I have a whole list of places I wouldn't mind going. I also read and do a lot of crafts like knitting and quilting.
Q: Any place in particular you've enjoyed?
A: I went to Istanbul, Turkey a couple of years ago and that was interesting. Given what's happened since then – with Syria not being too far away – it was interesting. I've been to Ireland about four times because my mother was from Ireland, so there's a family connection there. I want to go to Asia because it's so different like Japan, Korea and Vietnam. When I was a teenager, the Vietnam War was ongoing and, living in southern Ontario so close to the border, we got a lot of the news about it.