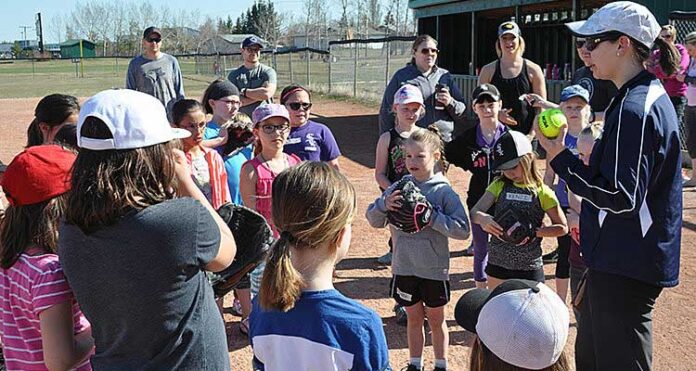 by Phil Ambroziak
Meadow Lake minor baseball has hit one out of the park with its recent decision to introduce a girls softball program.
Close to 50 girls between Grades 1 and 4 converged on Diamond #4 in Lions Park Saturday morning for a softball clinic. The event was organized by Amy East – a long-time supporter of softball and who, for several years now – has tried to get a program off the ground locally.
"Attempts have been made to introduce minor softball to Meadow Lake for the past few years, and now it's finally happening," East said. "When I was growing up, I played softball. When my daughter was four, she began taking part in Meadow Lake Minor Baseball's learn to play program. The girls who sign up play baseball with the boys, but a lot of them don't choose to stick with it as they get older because it's perceived as a boys' sport."
East went on to note, last year, softball was introduced to girls in Grades 1 and 2 who'd signed up for minor baseball. There was only a small number of participants, however, so when it came to actual game time, the girls would still play regular baseball with the boys.
"We needed higher numbers if we were going to make something happen, so now we've opened it up to Grades 1-4 girls," she noted. "So far, about 40 girls have come forward – enough to form four teams."
Saturday's clinic was held as a means of sharpening the girls' skills and introducing any newcomers to the ins and outs of softball. The clinic was facilitated by Meagan Hawkshaw who has played the sport both in college and at the provincial level.
"They asked me to come out today and offer whatever guidance I can, and I'm more than happy to help," Hawkshaw said.
East, meanwhile, said it's a neat idea to have the girls get together prior to the start of the actual season.
"When I was a kid, everyone knew the rules when it came to baseball or softball," she said. "But, as a teacher, I was surprised to go into schools and learn there's a lot of girls who have no idea. This is very exciting for me and, while my daughter doesn't seem to love it as much as I did when I was her age, I hope she finds a passion for it."
Hawkshaw, meanwhile, said girls softball in Meadow Lake is long overdue.
"I grew up playing the sport and, when I first moved to Meadow Lake, was interested in coaching," she said. "Unfortunately, there was no kids softball offered at the time. Now, five years later, softball is here. I'm just happy to see the sport finally arrive here and to know it's growing in popularity. I'm not trying to say baseball is strictly a boys sport, but it kind of is. It's great for the girls to have their own outlet and a chance to compete against each other."
East agreed.
"Minor baseball registration is at an all-time high, and a program like this is definitely going to be even more beneficial overall," she noted.