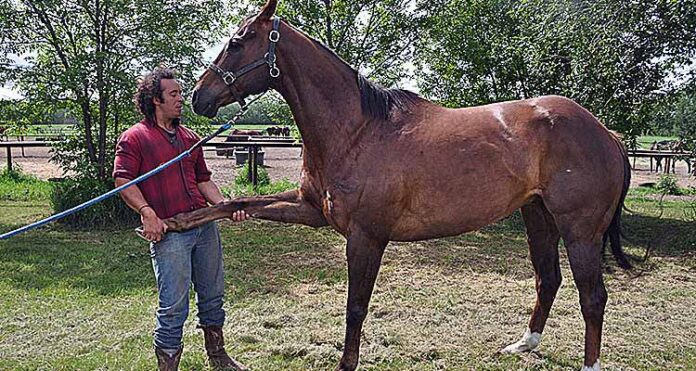 by Phil Ambroziak
Western Canada, or more specifically the world of professional chuckwagon racing, is the latest stop on the adventure Nicolas Hardy calls life.
Hardy, a native of France, is once again spending the summer on tour with Meadow Lake's Logan Gorst, one of the top drivers in the World Professional Chuckwagon Association. It's Hardy's second year working as a barn hand for Gorst, a job he knew nothing about before arriving in Saskatchewan as part of a journey that's taken him across Canada, throughout the United States and even as far South America.
"No, never," Hardy replied when asked if he was involved with horses or horse racing of any kind before arriving in the Northwest last year. "I rode horses a little as a kid, but never worked with racing horses."
Gorst said it's Hardy's responsibility to groom the horses, hook them up prior to the races and to perform other odd jobs as they arise.
"He's my right-hand man," Gorst added. "He's a really good worker."
Hardy, meanwhile, said he enjoys the time he spends with the horses, both on the road and at Gorst's ranch north of Meadow Lake.
"I feel close to them," he said. "When a horse comes home after a race, he goes off straight away to enjoy himself, to enjoy his freedom. That's how I see my own life too."
Hardy departed from Lyon, France in September 2014 to begin his adventure across the Americas. Prior to doing so, he served six years as a French naval officer. Feeling something was missing in his life, however, he opted to instead go in search of true happiness.
"My happiness is freedom," he said.
Eventually, he arrived in Saskatchewan where, through the power of the Internet and a work visa, he secured a job alongside other foreign visitors at Bruce and Marilyn Meeds' ranch east of Meadow Lake.
"I stayed two months on the farm taking care of cows in the winter," he noted. "When the chuckwagon season started, I heard Logan Gorst was looking for a helper. When I met him, he said, if I wanted a real Canadian adventure, I should go with him. This alone convinced me."
Hardy accompanied Gorst and his team during last year's WPCA Pro Tour, which included a stop at the world-famous Calgary Stampede.
"I just fell in love with horses, chuckwagon racing, and Saskatchewan," he said.
When the season ended, Hardy headed to the U.S. where he learned about equine chiropractic care. From there, he travelled to a few other places before making his way back to Meadow Lake this spring. Although he plans to head to Alaska this fall, then south of the border and off to new endeavours in new places, Hardy does plan to return again next summer. By that time, though, it could be in a different capacity.
"Now I think about just one thing – to be an outrider," he stated. "For me, it is important, when I go to another country, to become integrated with the population and with their traditions, and chuckwagon racing is the biggest Canadian tradition. I was a knight of the sea and now I'll try to be a knight of the prairie. I could also see myself asking for permanent residency in Canada too."
He went on to say everyone should live life with romance and focus on the things that matter to them most of all.
"When I first arrived in Canada on the East Cost, everyone told me, once I got to Ontario, I could get a flight to Alberta and then move on to B.C. to get a good picture of Canada," he said. "They said I didn't have to spend time in Manitoba or Saskatchewan. When someone tells me not to go somewhere, I go there straight away. I'm very happy to spend my time here. It's the province I like the most."