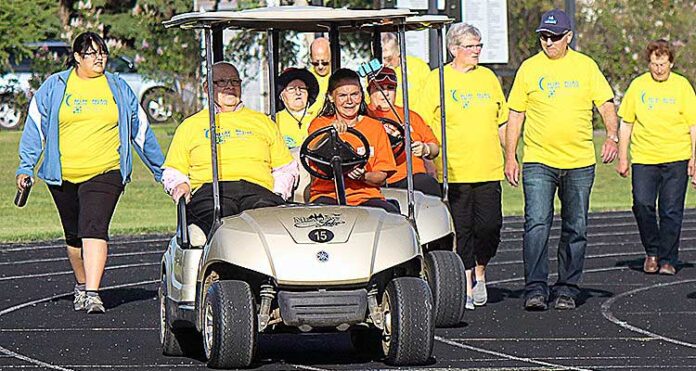 by Phil Ambroziak
The war against cancer continues, but Meadow Lake residents no longer consider their community a major battlefront.
That's how people like Brenda LaRocque-Hill feel in the wake of a recent decision by the Canadian Cancer Society to call off this year's Relay for Life fundraiser. The event was set to get underway this Friday evening (June 24) at Lions Park, but a lack of interest in terms of participants and potential donors resulted in the cancellation.
"Basically, our organization had to take a really hard look at the numbers and, unfortunately, registration numbers were down making the cost to put on such an event not very feasible at this time," explained Kalina Barlow, fundraising specialist with the Canadian Cancer Society's Saskatchewan Unit. "We'd like to thank the local planning committee for all their hard work over the years, and we look forward to bringing something new to Meadow Lake in the future."
Barlow said it hasn't fully been determined what this "something new" will be, but did note the possibility of a jail and bail event this fall.
"At last check, this year's Relay only had 17 participants registered and less than $400 pledged in addition to a $1,000 donation offered by one of the local banks," Barlow said. "That meant the total amount raised would have been less than $1,400, while the event itself was expected to cost close to $3,000 to organize."
The Relay for Life event began in Meadow Lake in 2003 and since that time has raised $475,925 for cancer research. Last year, however, the event only raised $7,000, half as much as it did in 2014.
"Unfortunately, support for the Relay for Life, as well as our other fundraisers, has been dropping off across the province," Barlow continued. "It's across the board."
Barlow believes this is primarily due to the province's current economic situation, but she also remains optimistic things will turn around sooner rather than later.
LaRocque-Hill, however, remains quite disappointed in this year's cancellation. She has been a local organizer of the Relay for Life for the past four years.
"I still don't understand why this has happened," she said. "It's just so frustrating and sad because cancer affects everyone. It's certainly affected my family. I lost my father to cancer, my mom had it and I also lost my father-in-law because of cancer."
LaRocque-Hill said she would gladly support any future initiatives the Canadian Cancer Society introduces to the community, but still said she would have liked to see the Relay go ahead as planned.
"It's a crying shame the community couldn't pull together to hold an event like the Relay for Life," she stated. "It's a real shame."