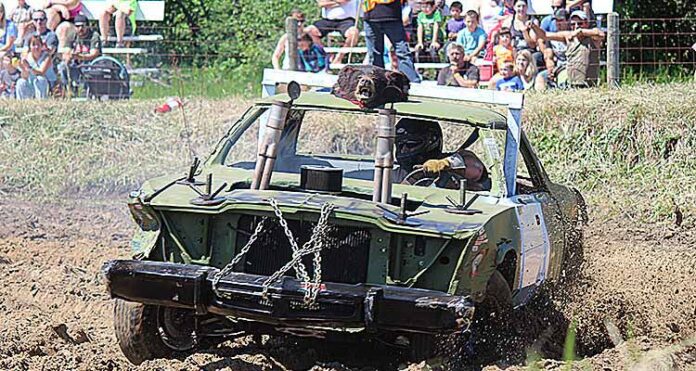 by Derek Cornet
Warm temperatures and no rain made for an exciting 16th annual Father's Day Smash on the weekend.
The two-day event, hosted by Flying Dust First Nation, saw more than 30 drivers compete this year to see if their ride had what it took. Band councillor Tyson Bear, one of the organizers, said the prize payout of $12,500 – a major increase from previous years – attracted more contestants this time around.
"It's to bring in more people and it costs a lot to put a car together," Bear remarked. "That's why we came up with the idea to give more money to the drivers and make them want to come out."
The first-place winner was Mike Rediron who claimed $4,000 followed by runner-up Kodi Gobert who earned $2,500. Third place and $1,000 was awarded to Eldon Derocher while Jeremy Head was acknowledged as best dressed and earned $400. There was also prize money awarded to all heat winners.
"Events like the derby don't happen every weekend, so there's a lot of people in the community getting involved," Bear said. "It sort of brings the community together to mingle. We like to be involved with Meadow Lake."
Bear went on to say the band knew the derby would be an annual event when they began hosting it regularly back in 2000. Since they took over, Bear said it always occurs on Father's Day because the chief at the time, Jim Norman, and his son wanted to do something special.
"I was working with recreation back when it started 16 years ago," Bear stated. "Jim and Jeremy Norman first started it and I guess Jeremy wanted to smash up cars with his dad on Father's Day."
In the spirit of cooperation, competitors from Meadow Lake built the 2016 raffle car, which was won by Gerald and Della Durocher.
Among the drivers at the event was Meadow Lake's Jason Millar. Millar's sponsor was the Prairie North Regional Health Authority's HIV Awareness program. Millar said the issue is close to his heart.
"I don't want one of my family members coming to me with HIV, so I put it on my car and I keep it in the mainstream," he stated. "I want people to be open to it and say yes to the test for HIV."
Millar has been competing since 2001 and said, this year, he spent the past month working on his car. He had to secure all the components with bolts and also moved the battery and gas tank into the car. He also needed to remove the glass, upholstery and seats. Millar said there's no real strategy to the derby, it's all a best guess.
"Sometimes the big guy who gets pull gets hit all the time, but the guy who is quick and limber gets to bounce around," he noted. "It's all theory. We don't know how it's going to work – it's a gamble."