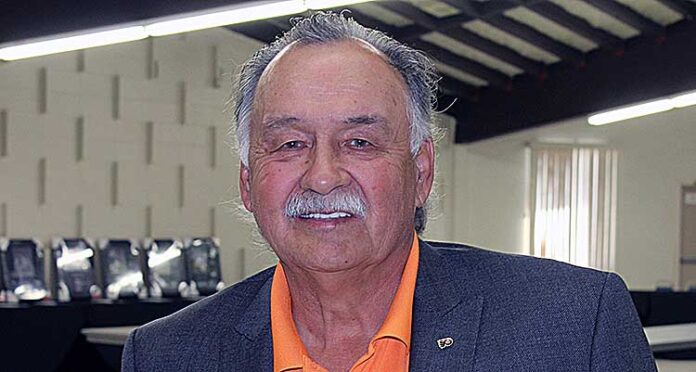 Hockey fans of all ages were pleased to meet one of their favourites recently when former NHLer Reggie Leach visited Meadow Lake for the annual Kinsmen Sports Dinner fundraiser. Prior to that, however, Reggie spoke with Northern Pride about his beginnings in the sport, his time in the NHL and his thoughts on where hockey is at today.
Q: How did you come to be a part of this year's Kinsmen Sports Dinner?
A: The Kinsmen called me up and asked if I'd be interested in being one of this year's guest speakers. For me, it is an opportunity to return to Meadow Lake. I haven't been there in years. I played junior hockey in Meadow Lake when I was about 15 years old. The sports dinner is an opportunity to mingle with the local fans, while my son, Jamie, and I will be returning to Meadow Lake later this summer to run a hockey school.
Q: Do you do a lot of public speaking?
A: Yes, I do. I do quite a bit of public speaking across the country. I often attend hockey banquets or sports dinners – it's a chance to talk to the fans who always want to hear stories about my days in the NHL. I've crossed paths with a lot of people over the years.
Q: Is there any particular message you share during your talks?
A: It all depends on the audience, but usually I talk about whatever it is the people who invited me want me to talk about. I like it because, when a small community like Meadow Lake does something like this (sports dinner fundraiser), it shows me this is a community that cares about its people. It's remarkable to see how small communities stick together to make everything better – that's a big plus in today's world.
Q: Tell me about your early hockey days.
A: Growing up as a young native person, I did not actually start skating until I was 10 years old. My parents couldn't afford skates for me. And, unlike most kids, I didn't have dreams of being like the top NHL players of the day. I was different. All I wanted was to do was play for the Riverton Lions, my community's (Riverton, MB) local senior team. To me, they were the best team going. Everyone went to see their games. And, I was lucky enough to play with them at the age of 13. I had only been playing hockey for three years, but as soon as I put the skates on for the first time, everything came automatically to me. People said I could shoot, I was fast, and I was just naturally talented.
Q: Obviously this is a gift that helped you go places in life.
A: Yes, I was very lucky, but I grew up in a small community and understand it took the whole community to get me to where I am today. Looking back, there's a lot of people I give credit to for helping me on life's journey. That's what life's all about and I'm sure there are people who came out of Meadow Lake who went on to play in the NHL, semi-pro hockey or any number of other sports who'd say the same thing.
Q: And, of course, you eventually made it to the NHL yourself.
A: I've had a very exciting life, yes. Like anything it's had its ups and downs, but my time in the NHL was definitely an up. I was this small town kid who, suddenly, found himself playing in Boston with people like Bobby Orr. It was great for me to just be there, to be a part of things. Back then, I didn't think I was good enough because I was in so much awe watching these other guys play. By my second year as a pro, I realized these guys were no better than I was and my career took off from there. I was traded to the California Golden Seals where I stayed for three season before joining the Philadelphia Flyers. It was in Philadelphia where everything fell into place.
Q: How so?
A: It was a chance to be part of a good hockey club and to play with my old buddy Bobby Clarke. Going from the Seals to the Flyers was like night and day. They (California) weren't a very good team, and by joining Philadelphia I became a tougher player, really got my mind set to play hockey again – everything just started to click. In 1976, I even had an opportunity to play with some of the best hockey players in the world when I joined Team Canada. I also played in a couple NHL All-Star games. My career just started to shine around that time. I scored 61 goals that season and was really on top of my game. In 1974-75 we won the Stanley Cup, while we lost in the finals to the Montreal Canadiens in 1976 and again to the New York Islanders in 1980.
Q: What made the Flyers so strong at that time?
A: The roster we had in those days was really good at coming together as a whole. We backed each other up all the time, and those were tough times as far as the action on the ice was concerned. At the time, we were known as the Broad Street Bullies, but there were a lot of tough teams, a lot of fights, but also a lot of skilled athletes. In 1976, I won the Conn Smythe Trophy, and to this day remain the only forward on a losing hockey club to win it. I still hold that record, as well as a few others. These are nice things to reflect back on and accomplishments that still give me a good feeling.
Q: Do you still keep in touch with your former linemates, Bobby Clarke and Bill Barber?
A: Oh yeah. We're still one of the top recognized lines in NHL history and I talk to the guys quite a bit. I went to see them just a couple of weeks ago and we always keep in touch to make sure everyone is in good health and such. We talk about the past and attend card shows together. It's always nice to talk with our fans – it really warms our hearts to hear from so many people who remember us even though we haven't played hockey in more than 30 years.
Q: How does today's hockey compare to when you played?
A: I believe hockey changes every decade. The late 1960s and early 1970s was a time for expansion, but you can't really compare today's hockey to our hockey. It's a different style these days, the players are in tremendous shape all year round and the game itself is more wide open. The passing is phenomenal, the goalies are bigger and there are some great shooters. But, I wonder how some of the top shooters from my time would do if they could have used the sticks they have now. Back then you had to be strong to shoot the puck, but with these new sticks the players just need to learn how to do that whip and they'll have a big shot each and every time.
Q: How do you remain involved with the sport?
A: I help Jamie out with his Shoot to Score hockey school. It's a travelling school that sees us go across Canada and the U.S. and teach thousands of kids each year. It's mainly a learning school, so the kids don't get into too many scrimmages. It's all about learning the various techniques. We also speak to the kids about making the right choices in life when it comes to drugs and alcohol, and we'll often have special guests from the RCMP and such attend.
Q: Tell me more about your family.
A: I have two beautiful and talented kids. Jamie is a former pro hockey player who won two Stanley Cups with the Pittsburgh Penguins and who represented Team Canada at the 1989 World Junior Championship. My daughter, Brandie, lives in Austin, Texas where she coaches women's lacrosse at the University of Texas. She also represented Team Canada in women's lacrosse back in the early 1990s. All three of us have represented our country one way or another. I also have three grandchildren.
Q: What's it like to have a son who followed in your footsteps, and also won the Stanley Cup?
A: I'm proud to say we're the only First Nations father and son duo to have our names on the Cup. I'm proud he also chose the sport I love to play, although he had to work a lot more for everything he accomplished than I ever did. The achievements earned by both my kids really warm my heart.