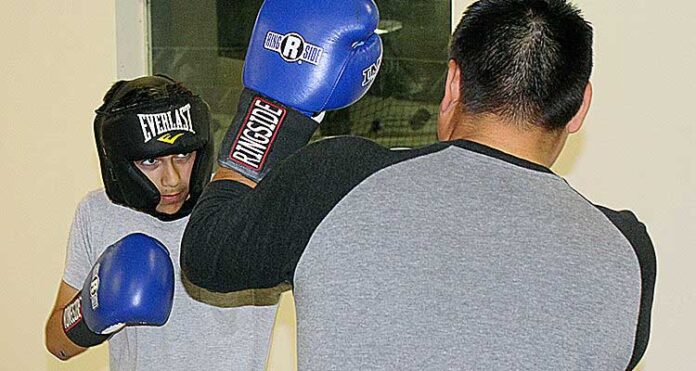 by Derek Cornet
The Kopahawakenum Boxing Club experienced its first taste of a boxing card June 4 and returned home with a gold medal.
"It was good to get into the atmosphere and for them to see the old coaches and there's also the up-and-coming boxers who are coming along," said club coach, and founder, Tyson Bear.
In total, three athletes competed in the Saskatchewan Amateur Boxing Association's 2016 Provincial Championships held at the Regina Boxing Club.
Caleb Morin – who took part in the 38-kilogram novice division – had three fights and ultimately snagged the top spot. Bear said he is proud of his team because they represented the club well. Others attending included brothers Jace and Cael Derocher, who participated in sparring sessions.
Bear had launched the club in January because he wanted to encourage young people to participate in a health activity. He had previously operated a group about 10 years ago, but stopped because he no longer had the time commitment to keep it going. During the first couple practices however, Bear said up to 25 kids would join, but now only 10 remain.
"I started cardio training them off the hop," he stated. "I wasn't going to teach defence, offence and the secrets of boxing right away, so what I did was have these kids come in and train for five months before I started giving them pointers. I weaned out the ones who were in it for the wrong reasons."
Bear, however, is happy the numbers are currently low because he lacks some equipment and additional coaches to expand. He has two assistant coaches, but the club is still working to obtain a boxing ring, rubber mats and other essentials. But, Bear said they're making due with what they have.
The club – which is planned to be operated year-round – hosts training sessions three days a week at Flying Dust's PineRidge Ford Place.
Bear noted sparring is one of the most beneficial aspects because he's able to work hands-on with the athletes and evaluate their strengths and weaknesses.
Morin, a Grade 6 student at Meadow Lake's Gateway Elementary School, joined boxing because his father encouraged him to. This provincial competition tournament was the first time Morin has won a gold medal and it surprised him.
"I didn't think I was going to win," Morin stated.