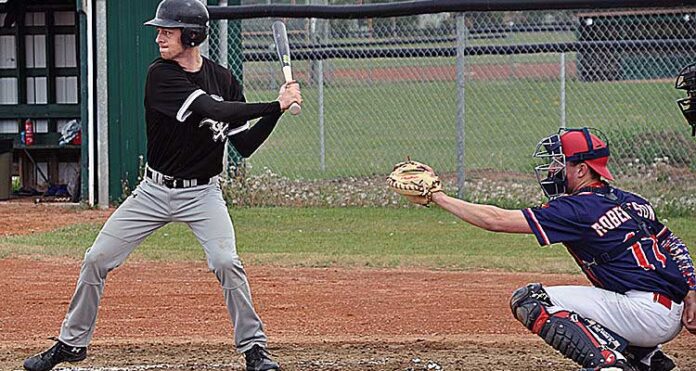 by Phil Ambroziak
The Meadow Lake Senior Sox of the North Saskatchewan River Baseball League (NSRBL) may have lost their season opener, but they weren't about to disappoint the hometown crowd on hand for the double-header played at Lions Park Sunday afternoon.
"We started things off last Wednesday (May 25) in Mervin against the Flyers, but things didn't go very well for us at all," remarked Sox player and team manager Kevin Gerwing.
Mervin defeated Meadow Lake 6-2, a result Gerwing attributes to his team giving up too many walks, accruing too many errors and simply being unable to hit the ball.
"But, in our double-header on the weekend, our bats came alive, we had solid pitching and some really good defence," he added.
With the threat of rain lurking above, a small crowd converged on Assman Field to see the Sox take on the Unity Cardinals and the Wilkie Brewers in back-to-back action May 29.
"Our hitting really came through in these games, especially against Wilkie where we were down by three runs early on, but were able to hold them at those runs and come back to win the game by a score of 8-3," Gerwing noted.
Meanwhile, the Sox narrowly defeated Unity earlier that afternoon by a score of 3-2. Gerwing said the team's ability comes from not only each individual players' talents, but also from how familiar members are with each other. This season, the Sox welcomed back the majority of its core players in addition to adding a couple of fresh faces to the roster.
"We're a pretty tight-knit group," he said. "Everyone knows what he brings to the table. We do have more players now than in recent years, so it could become challenging to make playing time a priority, but we'll be sure to get our key guys in, as well as help our new players to further develop them."
The Sox will next see action when the travel to Standard Hill to square off against the Lakers today (June 2). This Saturday, the team will be back home to host the St. Walburg Reds.
We're looking forward to getting out there again and getting ourselves back into the proper shape we were last season," Gerwing said. "And, hopefully our bats come through for us yet again."
In other NSRBL action this past week, the Midwest Expos defeated the Macklin Lakers 5-4 May 26 while that same day saw Unity down the Lloydminster Redhawks also by a score of 5-4 and the North Battleford Beavers earn a 6-5 victory over the Edam Blue Sox. Following their game in Meadow Lake, Unity also faced Edam Sunday evening, winning that contest 10-3.
Meadow Lake currently has the best winning percentage in their division with .667.