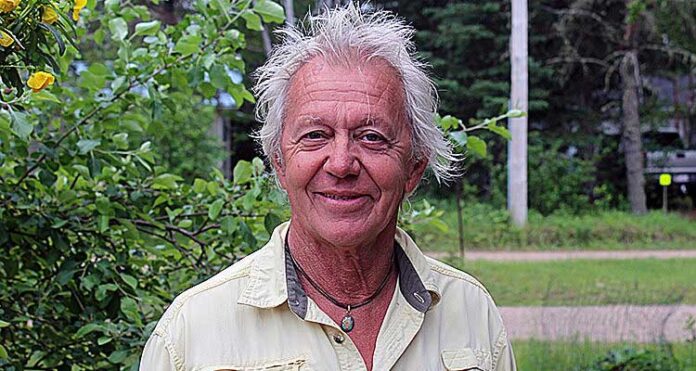 Even though he's travelled across the world, Marlow Esau of Kimball Lake says there's no better place than home. Recently, Marlow spoke with Northern Pride about what it's like living in the Meadow Lake Provincial Park year-round, the wildlife and his journeys so far.
Q: How long have you been living in the Meadow Lake Provincial Park?
A: Twelve years. My wife, Leslie, and I moved here when we retired. Leslie was a teacher in Meadow Lake and I owned a photo studio for 28 years.
Q: What's the history of your cottage?
A: We built the cabin as an Esau family about 45 years ago, then we purchased it from my sisters and dad. Our kids spent a lot of time here and this is where we wanted to be when we retired. It was built as a two-month usage place during the summer then, when we purchased it, we did the upgrades to make it livable year-round. When we retired, we finished the work. We added better insulation and skirted it along the bottom to keep the critters from living there. We put in new windows and doors to retrofit it and make it liveable at -40C. We use wood heat as well, so from that point of view, we had to make sure it was as sealed as possible.
Q: What's a typical day for you?
A: We walk quite a bit and do a lot of hiking, biking, canoeing and kayaking. I've been into those things all of my life. We sold canoes and kayaks at the cottage as a sideline for a number of years. Canoeing and kayaking is our main recreation. Nature itself is what we find so appealing. You never know when a doe will walk by. Just recently, a doe with her two fawns came through and, last spring, a moose stuck around for about two weeks. Bears come through once in a while, but they're smart enough to skirt the area. There's about 20 people who live here year-round, so everyone is conscious of keeping their garbage put away.
Q: Is there a busy time for wildlife?
A: We have wildlife all year, just different types. We wouldn't see wolves in the summer, but if we're out snowshoeing on the lake, we'll see one or two wolves. We've never seen a pack. We also see more otters in the winter.
Q: Any difficulties living in the park?
A: The only thing I would say is difficult would be groceries. It's really no different than a farmer, you just have to organized. We try not to go in more than once per week. One of the biggest things is, if we don't feel like cooking, we just can't go to a restaurant. Heating the house all winter is a lot of work, but it's recreation and exercise. When fall comes around, we start anticipating the preparation for the winter almost like an old trapper. The neighbours get together and we'll get wood together. There are only two permanent cabins that don't have fireplaces, so we all get wood.
Q: Tell me about your family.
A: We have two children – a daughter and a son. Our daughter, Tatum, is married, has two children and lives in Grenfell, SK east of Regina. She took over where I left off with photography. Our son, Logan, lives in Victoria, B.C. and he left home when he was 17 years old because he played junior hockey. The kids grew up at the cottage whenever we could find time. They loved it and still come back for their summer holidays.
Q: What was it like raising a family in Meadow Lake?
A: Good. It all revolved around sports. Our kids were active in pretty much everything. There was a lot of travelling. We were always on the road and I don't think that's changed one bit. We were always hauling kids around. We got lucky. Our kids were really easy to raise. All four of us considered the cottage our home and our house in Meadow Lake was a place we had to live to go to school and go to work. The cottage was always home.
Q: Where are some of the places you've travelled?
A: We've been to Thailand, Cambodia, Laos, Vietnam, the Philippines, India, Nepal, Sri Lanka, Jordan, Israel, Egypt, Argentina, Chile, Bolivia and Peru. We've been to all the Central America countries. The last two winters we've also spent time house sitting in San Diego, U.S. We met the people we house sit for in Costa Rica. This year, we're going to take off again, but we still need to decide which countries we're going to.
Q: How do you travel?
A: We don't do guided tours – we backpack. We use local transportation. One of the things we enjoy about travelling is the people you end up meeting. We've stayed with people from all over the world and learned just how generous and good people are. The friendships we've made are amazing. Like I said, we use local transportation so we're travelling with the locals. We get to really get a feel for their culture. It's not like going to a resort where you see a bunch of people working on a resort. It's not like riding the train with the Vietnamese or being invited into people's homes to have a meal with them. You hear bad stuff on the news about different cultures and countries, but it isn't what the news says. There's some bad people, but people are good everywhere you go and the bad ones get the press.
Q: How did this interest begin?
A: Our son had been gone about a year travelling. He was working in Australia and was heading to Southeast Asia for another six months or so. It was the first year we had retired and he said, if we wanted to visit him again, he'd let us travel with him. We couldn't really understand why he was travelling the way he did – it worried us. But, by the time we were done travelling with him for two months, we thought it was the most awesome thing and could understand why he spent a better part of his life doing that. His wife does the same thing and that's how they met. They met along the Amazon River in South America.
Q: What are you looking forward to next?
A: Ever since our son quit hockey, he did a lot of travelling and he married a woman from Dublin, Ireland. They're coming up this week and bringing her mother, so they can see what Logan's lifestyle was growing up as a kid. They're staying at the cabin for a week or so. We met her at the wedding, but she's only seen Vancouver Island. Logan wants to show her the cabin and Meadow Lake.
Q: Where did you and Leslie meet?
A: In Meadow Lake. She's from Regina, but came to Meadow Lake to teach for one year. One year was in 1974 and we've been together since. I grew up in Meadow Lake.
Q: Has Kimball Lake been a good place to live?
A: The day Leslie stopped teaching, we moved to the cabin and we haven't regretted the decision for one minute. It's the best thing we've ever done. No matter where we've been in the world, when we come home and see Kimball Lake, it's still the best feeling. Kimball Lake is such a great community. It's a tight community and we get together for all kinds of events. We make a mini-golf course on the lake and a skating rink. There's also a walking path that's about six kilometres. At Christmas and if the weather is nice, it can be crowded because all the cabin owners come with their family.