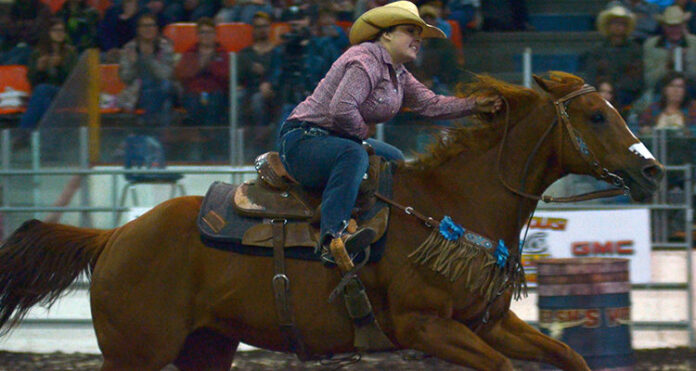 by Phil Ambroziak
Rodeo fans did not ride off into the sunset disappointed on the weekend, as three of their favourites claimed the top spot in their respective events.
When all was said and done following the two-day indoor rodeo (June 10 and 11), Meadow Lake's Tyler Wilson placed first in the saddle bronc competition, Colton Ouellette was the winner of the bareback riding event and Arlan Lumgair was number one in junior bull riding. Meanwhile, a third-place finish was recorded by Cody Coverchuk in (senior) bull riding and Robyn Hoover in ladies barrel racing, while Landon Nadon was fourth in bareback. Coverchuk also placed second in the bull riding only event June 9.
"The entire rodeo went very well, with the highlight being three locals winning their events," reiterated Meadow Lake Stampede Association president Leighton Wood. "It's a great accomplishment and shows we have some up and coming riders from right here in our own community. It proves they can keep up with the competition."
The rodeo capped off the 96th annual Stampede Week in Meadow Lake, which began the previous Monday with a western parade followed by the District 36 4-H Show and Sale the following day and the annual bull-a-rama June 9.
Wilson, who competes in the Lakeland Rodeo Association, the Wildrose Rodeo Association and the Canadian Cowboys Association, said he's always excited to ride in front of a hometown crowd.
"When it comes to rodeo season, you're usually scattered all over the place, but I always love coming back to Meadow Lake," Wilson said. "They always put on a great show and, this year, I was lucky to get on a good horse."
Ouellette agreed.
"I love riding in front of my friends and family," he noted. "I knew I had a good draw and I was determined to win my hometown rodeo. The energy of the crowd was just awesome."
Wilson began his rodeo career as a junior bull rider when he was 11 years old. He switched to saddle bronc riding when he was 16 and has continued in that event ever since.
As for Ouellette, he's currently sitting second in the LRA.
"This Friday (June 17) I have a rodeo in Lac La Biche, AB, along with two more on the weekend," he added.
And, according to Wood, fans had no trouble seeing all the action because of the presence of a big screen in the arena that, for the first time, was utilized throughout the entire weekend. Last year, it was only used during the bull-a-rama.
"It definitely makes the show," Wood said. "At one point, I sat down at the far end of the arena and you could see the action clear as day. You could see everything that was going on in the chutes, and the replays were very popular. It would be difficult to try getting away from the big screen now."
Wilson agreed, stating the screen helps give the rodeo a big time feel.
"Meadow Lake used to be one of the biggest rodeos next to Calgary, and things are really starting to come along again," he said. "It's a great event that, in about four years from now, will celebrate its 100th anniversary. There's a lot of history here."
Wood, however, said no specifics have been ironed out in terms of the 100th anniversary.
"We've thrown some ideas around, but not really formulated any sort of plan," he stated. "I'm sure that will be our focus in the next few years, but for now I'd like to recognize the sponsors and volunteers who made this year's rodeo a success. Without them, we couldn't really do this."