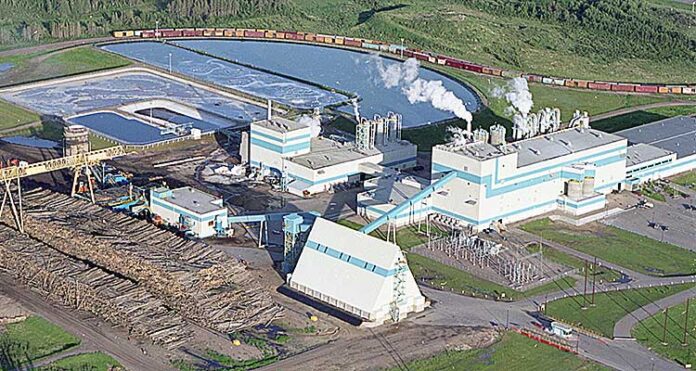 by Phil Ambroziak
It could soon be lights out for the person or persons responsible for shooting a SaskPower conductor near Meadow Lake.
As was reported last week, the conductor – located about 42 kilometres south of the city – was shot with what is believed to be a high-power rifle July 10 resulting in a major power outage. Among those to lose power were Meadow Lake OSB east of Meadow Lake, as well as Meadow Lake Mechanical Pulp where general manager Simon Imray said a $5,000 is now being offered for information leading to an arrest.
"We're the only two customers on that power line and, when the SaskPower guys went to do the necessary repairs, they found bullet holes in the conductor and lines that appeared to be severed as a result of gunfire," Imray said. "The power was out for 51 hours."
The loss of power resulted in production at the pulp mill grinding to a halt. Once things were operational again, Imray said it took a little bit longer to bring things back online.
Production is back to where it should be, but the mill's recovery boiler is still offline. It is, however, expected to be up and running again by the weekend.
"None of the workers lost hours, in fact there was more work to do in order to get the mill running again," Imray continued. "Still, this is sure to have a significant financial impact to our overall operation."
Imray went on to say the mill has experienced unexpected and long-term power outages in the past, but they've mostly been weather related. He is unaware of any past outages being caused by an act of vandalism.
"In this particular case, I really don't know if someone was just being mischievous and looking for a target to shoot at or if it was intentional," he added. "That's why our parent company, Paper Excellence, has issued the $5,000 reward. Because this was caused by human activity, we're hoping someone who knows something will come forward."
According to Meadow Lake RCMP Cpl. Ryan How, the police do have a couple of leads they're following up on with regard to the incident.
"SaskPower reported to us the conductor was shot with what appears to have been a high-power rifle," How reiterated. "Generally, this would be a difficult offence to solve, but we do have a suspect we are investigating."
How also stressed how much damage can be caused and the high level of safety put at risk when someone carelessly brandishes a firearm. He also confirmed the RCMP's belief the incident isn't simply mischief at its worst.
"We don't think it was a random act," he said. "There may have been some intent behind it, but there's nothing more I can say at this time."
A spokesperson from Meadow Lake OSB could not be reached for comment by this week's news deadline.