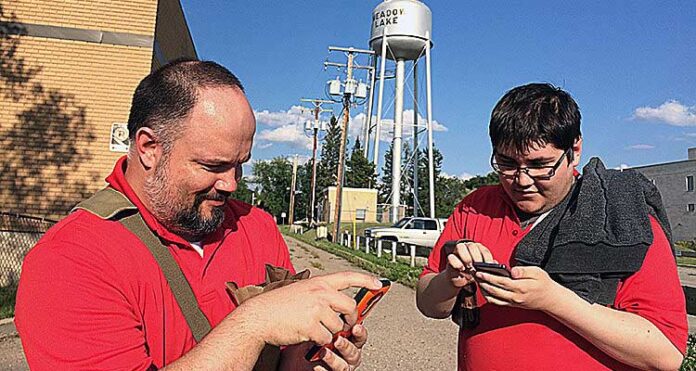 by Phil Ambroziak
More people than usual are coming to church in Meadow Lake, but not for the regular Sunday service.
Good Shepherd Lutheran Church/Holy Trinity Anglican Church on 2nd Street West is now the site of one of two virtual "gyms" users of the newly released Pokémon Go mobile app are gathering at as they continue to play the popular game. In recent weeks, small crowds have been meeting in the church parking lot at various times throughout the day and into the night. According to the church, however, as long as the building and property are respected, there shouldn't be a problem.
"I've talked to a few of our church members and, as long as they're respectful of the church and people are safe, they're OK with it," explained church official Miles Nachbaur.
Pokémon Go is a free-to-play location-based augmented reality mobile game released in Canada earlier this month. The game allows players to capture, battle, and train virtual creatures, called Pokémon, who appear on device screens as though in the real world. It makes use of GPS and the camera of compatible devices. Pokémon itself is a Japanese-based media franchise that dates back to the 1990s and which features video games, trading card games, animated television shows, movies, comic books, toys and more.
"First of all, it's Pokémon," remarked Meadow Lake resident and Pokémon Go user Kevin Conrad when explaining the game's appeal. "I bought the first series of cards when I was younger and they were awesome. Now, these guys have released this app and if you do it the way you're supposed to do it, you walk around, find these Pokémon and, if you have a good enough phone, you see them live – right in the real world with you."
The game features three teams with the goal being to capture the Pokémon you find, train them and use them to battle Pokémon belonging to the other teams. According to the virtual map provided to users in Meadow Lake, several "PokéStops" are located throughout the community, as well as the two "gyms" where these battles take place.
"The Meadow Lake water tower is the other Pokémon gym – people can train their Pokémon there," Conrad explained. "If you're on Team Red, you can take over the gym. But, Team Blue or Team Yellow can come in and try to beat your guys to take it over. It can be really fun."
Meadow Lake RCMP Cpl. Ryan How, meanwhile, reminds users not to play the game while behind the wheel.
"Having said that, I do encourage people to use the app because it encourages them to be more active," How said. "As long as their awareness is heightened and they're not doing anything that's going to get themselves or others hurt."
Conrad said he also appreciates how active he's become since using the app.
"Yesterday, I walked three hours more than I normally would," he said. "It's definitely a fitness app."
How also confirmed the RCMP would not be enforcing the 11 p.m. municipal curfew for young people using the app after hours.
"As long as they're not causing any problems, it's great to see them outdoors and getting exercise," he said. "If you are going to be out that late, however, I do encourage you to take a buddy along with you and to be safe."