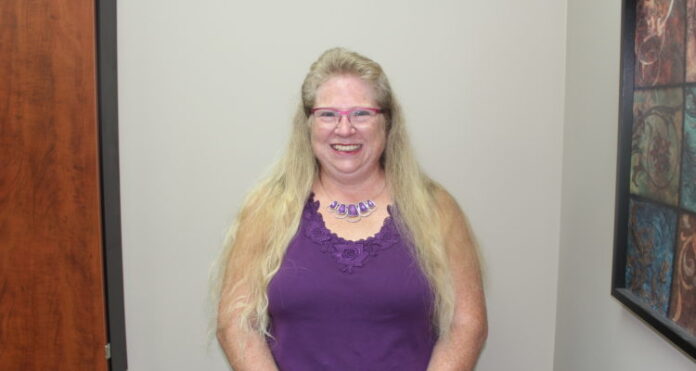 The Conversation with Elks volunteer Lori Allan
Born in Meadow Lake, Lori Allan doesn't take the beauty of the Northwest for granted. Recently, Lori spoke with Northern Pride about her roles in the community, her summer plans and what it's like becoming a teacher at 50 years of age.
Q: How are you involved with the Meadow Lake Elks Club?
A: I've been volunteering with the Elks for the last 18 years. Our fishing derby has been going on for 17 years. I'm the treasurer, so I deal with all the money at the derby and make sure prizes and silent auction items are available. The derby is two days and it's fairly inexpensive because it's a family event. Other places have fish derbies, but they're not family-orientated where ours is. We kept
the price down so parents can bring their kids too.
Q: Is the derby a big event for the club?
A: It's our main fundraiser of the year. It takes months to organize and we have to collect prizes from all of our sponsor businesses. We have some members who do that. We set up on Friday and, after so many years, we bought our own tent and supplies. We used to borrow everything to host the derby, but we have everything ourselves now. On Saturday and Sunday, everyone comes out and, the best thing about the derby for me, is watching the boats all leave at the same time when they honk the starting horn.
Q: What do you like about the Elks?
A: I like the family atmosphere. My husband, Eugene, and I are both Elks members. We joined at the same time. My step-father, Ron Johnson, is part of the Elks and it's a family thingwe do together. It's fun and it's not stressful. It's not demanding.
Q: I understand you're also involved with Bethel Gospel Horse Camp?
A: I'm the director and I've been involved for six years. Right now, it's located in the St. Cyr Hills and we have four weeks of camp during the summer. Last year, we lost a bunch of our horses, so we've been trying to replace them. They had swamp fever and we had to put a lot of them down. That's been stressful this year. I work with Tricia Kroeker who is the head wrangler, and there's also four junior wranglers. I love getting kids out into the countryside because, nowadays, they go to school, play sports activities, go home and then to bed. The next day, it happens again and it's hard on kids. At the camp, it's time to slow down and take the time to smell the roses. It's about getting to know a little bit about nature, God and to slow down. Our life is so fast-paced and it's important to slow down.
Q: What's your profession?
A: I'm a spare bus driver and substitute teacher. I've been a bus driver for 10 years. I've had regular routes and now I'm subbing. But, this month I've gone on school trips and have taken on more routes. I've taught this month as well. I became a teacher last year at the age of 50. I love working with children. To me, it's refreshing and I love working with them.
Q: You must enjoy horses?
A: I love animals – all animals. I currently own two horses and I just bought another one. I'm pretty excited about it. The new one is an older horse. He's been a roping, riding and racing horse. He's about 20 years old, but he'll be perfect for horse camp. Beginner children can ride him and, if they happen to yell right beside him, he's not going to jump or freak out. He'll just stand there and look at them.
Q: What's it like driving a bunch of kids out of town?
A: I think it's wonderful – some drivers don't. I talk to the kids before we leave and tell them I have three rules. The rules are they can eat and drink, but there are bags to put garbage in, they have to stay seated at all times, and have fun. They can talk as loud as they want – as long as they're not screaming – and sing as much as they want to. It doesn't bother me.
Q: Do you join the kids during these outings?
A: No. I hang back. I would get involved and, if I was a teacher driving the bus I would be involved, but as a driver I need to be available. If there's an emergency, I have to be at the bus. So, if a teacher comes with a kid, I'm there and I can take them to wherever they need to go. Also, nobody wants the bus driver getting injured with something like a broken leg. There are ski trips and
we're not allowed to be skiing in case we break a leg and can't drive the bus.
Q: Do you plan on teaching full-time?
A: I'm looking for a job. I also have a certificate in early childhood education. I've been applying, but I haven't found anything yet. It will come. I'll keep trying.
Q: Why did you go back to schooling your 40s?
A: I wanted to become a teacher's aide, but I didn't have any schooling. So, I got an early childhood education certificate, but then they started cutting back on the aides. Then, the North West College program came in and, in the back of mind, I always wanted to be a teacher – I just was never able to. So, I submitted my application last minute and told God if he wanted to make it happen, it would happen. God has a sense of humour because He gave it to me. So, I took all four years of classes in Meadow Lake and I couldn't have left to do it at that point. My husband and kids supported me 110 per cent.
Q: What other jobs have you had?
A: I was a manager of a department store in Alberta. I was born and raised in Meadow Lake, but I moved to Peace River in my 20s and trained to become a manager at a couple different stores. They were called Robinson's at the time, but they're now known as The Bargain Shop. I also met my husband in Peace River and we started a family there. I stopped being a manager, became a teacher's aid and moved back to Meadow Lake. My husband and I have been married for 26 years. Our daughter, Lorrene, works at Home Hardware Building Centre and our son, Cordell, works at Fillion's Saw Repair.
Q: What did Meadow Lake used to be like?
A: It was a lot slower. Saturdays were absolutely dead – it would be like a Sunday. It's way busier now. For a year, I drove the town route and I was amazed at how busy every day is. There's traffic all the time. There's also a lot of new businesses and the mall wasn't there then. The town's grown quite a bit. Bridger Driver and all the houses in that area weren't there when I grew up.
Q: What are your hobbies?
A: I'm a bit of a gamer – I like playing on my iPad. I also like to read, paint and play cards with friends. I like reading inspirational books that make you feel good or you've learned something from it. I like reading Danielle Steele novels as well. She's one of my favourite authors. I also read the Bible a lot.
Q: What do you do for holidays?
A: I have an auntie who lives in the United States and I've been there a few times. This last year, I went to Arizona for two-and-a-half weeks to visit her. It was so nice. Here, it was cold and there it was warm. I even picked oranges off the trees. My auntie also has a motorbike, so we drove around on it. When my kids were younger, we made family trips. We drove to the U.S. and back and we also visited the Moose Jaw tunnels.
Q: Any summer plans?
A: My big thing in the summer is horse camping. We're trying to build in the St. Cyr Hills where we have the horse camp. My husband and I want to build a house – we live in Meadow Lake right now, but that takes time. That's what we're putting our energy.