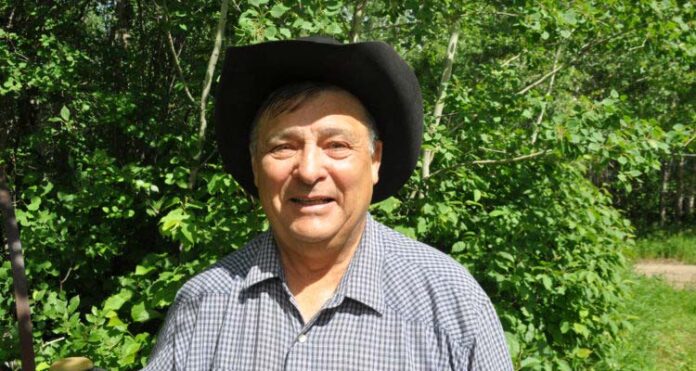 The Conversation with former wagon driver Glen Delaronde
Q: When did your chuckwagon racing career begin?
A: I started in the 1960s. I was 17 when I started, so that was around 1968. I was involved with the sport even earlier than that, however. At first I tried to be an outrider, but that wasn't working out for me. When I was young, I also competed on the rodeo circuit. I rode cows and did some pole bending at the junior level, but chuckwagon racing was always my main thing.
Q: Why is that?
A: It was a family thing, and was just what I always pictured myself doing. My father, Alex, was a wagon driver and eventually I took over. I've always had a love for horses, so that's why I always tried to involve myself in different horse-related activities.
Q: How long did you race?
A: I drove until 1986, but a lot of interesting things happened between that time. I remember in 1968 there weren't very many drivers – maybe about 10 and about six of us who went to all the shows. It was a lot of fun in those days, and I thought it was great to be paid just to show up and race. Things got even better as the years went along.
Q: Were you part of the Canadian Professional Chuckwagon Association in those days?
A: No, the CPCA is a completely different association. We were just a bunch of Meadow Lake and area drivers who competed together until, in 1975, we joined what was called Canadian Protective Cowboys Association, but everyone used the word "professional" instead of protective. It featured chuckwagon men, as well as rodeo cowboys. We all belonged to the same group and, as part of that association, I accomplished a lot of good things.
Q: Where did you go from there?
A: The Cowboys Association ran into a bit of a roadblock with the Calgary Stampede and it got to the point where they were no longer invited there to compete. Because we were part of the association, this meant we (chuckwagon drivers) couldn't compete in Calgary either. That's why a bunch of us broke away from the association in 1980 and formed what's known today as the World Professional Chuckwagon Association (WPCA). I'm a founding member of the WPCA. We figured by forming our own group, we'd have a better chance of getting back into Calgary. It worked and, to this day, the WPCA head office is located in Calgary.
Q: What were the early days of the WPCA like?
A: They were competitive. We ran all the time. If there was a cloud in the sky, we wouldn't hold a meeting and decide to cancel the show. Everyone brought along dry weather horses and wet weather horses, and we ran. This was especially the case when we were in a place like Fort Nelson, B.C. where we knew, if we ran, we'd make big money. The fact of the matter was, you didn't get paid for a rain out.
Q: Did you have a lot of success throughout your career?
A: I won various shows and championships in the early days, but never won a championship as part of the WPCA. Then, things really started to slow down for me in 1981. I had a bit of a fender bender, which landed me in the hospital in Saskatoon for six weeks. That took a lot of fight out of me, I lost some good horses and basically had to rebuild from there on in. I'd still have my good shows, but also my fair share of bad ones. I just didn't have the horsepower anymore. I retired a few years later. If I didn't have that crash in '81, things may have been different.
Q: Do you consider chuckwagon racing a dangerous sport?
A: No, it's really not that bad. We have had our share of tragedies – we lost Richard Cosgrove in '93 when he was bounced out of his wagon at the races in Kamloops. Then, in 1994, we lost George Norman at the Ponoka Stampede, as well as Billy McEwan in Calgary a few years after that. But, it's like anything else, and things have improved in recent years. In the past, you'd show up to the races with three or four green horses, whereas today everyone has three or four outfits and the horses have all been broke.
Q: How else has the sport evolved?
A: There's a full 36 drivers these days. They've always sold advertising on the tarps, as the wagon racing business has always been more about the sponsorship than what happens on the track, but the sponsorship has grown heavier in recent years. Before, you'd have one sponsor and use the same tarp all season. Now, you sometimes see guys changing tarps between races, while some guys enter more than one wagon. It always was a business and it still is. In my day, it was our way of life. That's how we paid our bills.
Q: I imagine it must also cost quite a bit to compete.
A: It does, and we poured everything we had into keeping it going. We cut corners as much as we could by packing our own living accommodations and our own meals. It was real chuckwagon living, but it was also a lot of fun. It was difficult to retire when I did because, even to this day, my heart is still in it. But, it's the young guys' turn now. I had to leave when I did. I just wasn't as competitive as I used to be, and I was getting sore. I'd had a hip replacement and a broken back, as well as a terrible concussion (as a result of the 1981 crash). It was time for a new career.
Q: And, what was that new career?
A: We got into ranching. We used to operate a cattle ranch and did OK with it. We worked very hard at it, but I eventually sold the majority of the cattle. I still have some here, but my eyesight isn't well. I have a hereditary disease called acute retinitis pigmentosa. That made it hard to keep going, so I decided to sell the cattle, as well as some of my land and everything just fell into place.
Q: Do you still follow chuckwagon racing?
A: Yes, I actually went to Medicine Hat for the races recently and we follow the WPCA on the radio. We also have a lot of family members still involved with the sport. Gary Gorst is my wife's brother, and his two sons, Logan and Dustin, also compete in the WPCA. Our nephew, Layne Bremner, also competes, while our other nephew, Dallas Dyck, races in the CPCA. It's a great sport.
Q: There's a certain camaraderie involved too, correct?
A: Yes, it's like one big family of people all with the same interests. Nobody is there to hurt anybody, but everyone is there to beat everybody else.
Q: Tell me more about your family.
A: My wife, Lorna, and I have been married 47 years. Our oldest son, Leonard, used to race chuckwagons as well. Today, he's a consultant in the gas fields in Grande Prairie. Our youngest son, Lee, trains race horses and operates the starting gates at Marquis Downs in Saskatoon. We also have six grandchildren.
Q: What's the secret to a long-lasting relationship?
A: For us, it's probably because we have the same interests. Lorna came from a 4-H background and probably knows a lot more about cattle and horses than I ever will. And, throughout our relationship, we've never really been apart. We've always done things together.
Q: Do you have any final words of wisdom?
A: If you're going to do something, do it to the best of your ability. And, you don't have to compete with anyone but yourself. Try to get better within yourself, and you'll become a better person overall.