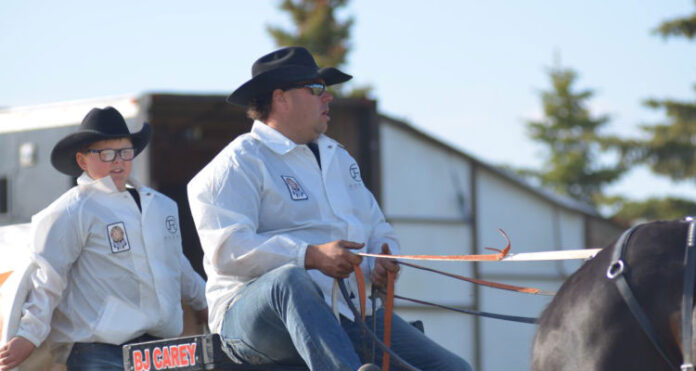 by Terry Villeneuve
For close to 10 years, Canadian Professional Chuckwagon Association (CPCA) driver BJ Carey had his share of ups and downs on the track. His efforts behind-the-scenes, however, have been equally as challenging.
"I've been CPCA vice-president for the past four years," said Carey, who grew up in Meadow Lake but now calls Lloydminster home. "It's my job to help the other directors run the association and to do what's best for the group as a whole."
While he continues in the role because he wants to see the CPCA succeed, Carey admits it's not an easy job to do at times.
"I feel I have what it takes to help the association, and that's why I stepped up," he said. "Unfortunately, it can be a thankless job. There are a lot of people out there who, at times, feel they can do a better job, but they're not the ones coming forward to actually try."
As for his performance on the track, 2016 hasn't been Carey's best year. He finished 15th at the June 29 to July 3 races in Onion Lake, is currently 35th at the Calgary Stampede after five days of racing due to 16 seconds in penalties, and holds down 16th spot in the CPCA driver standings.
Meanwhile, a key departure from Carey's barn this year has been his wife, Kim, who was hired at the start of June as the new CPCA secretary.
"I saw it as a good opportunity and as an extra income," Kim Carey said. "I was on the road with the CPCA anyway, and I've been part of the association all my life. I used to travel the circuit with my dad (former CPCA driver Brian Laboucane), and my brother (Jamie Laboucane) still drives today. It's just a passion I've always had, and now it's a new challenge for me."
So far, Kim Carey said there's been a lot to learn in a short amount of time.
"But, everyone has been very helpful and appreciative of my efforts," she said. "As of right now, I've been in contact with the various show committees to make sure everything is in place prior to each event, I'm involved with making up the draws, setting up meetings and handling the CPCA's correspondence."
She went on to say, in addition to her husband, father and brother, her son has also expressed a serious interest in embarking on a chuckwagon racing career once he's old enough to do so.
"It certainly is a family affair," she said. "I want to continue to ensure the CPCA is a thriving association by the time he's ready to run."
BJ Carey, meanwhile, said he's happy for his wife, and wishes her the best in her latest endeavour.
"It took her away from our barn, yes, but it's a paying job and one she can do year-round," he said. "To do a good job as secretary, you need to know chuckwagon racing and she grew up around it, so who better?"