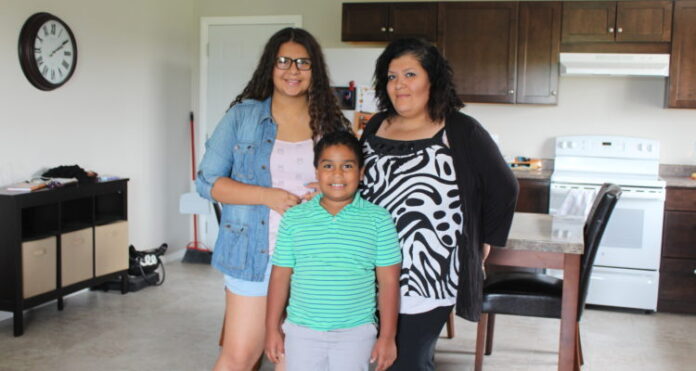 by Derek Cornet
Three new houses on Flying Dust First Nation have made home-ownership possible for local families.
"I'm thankful and I feel blessed I have a new home," said Charmaine Mirasty, who moved into a three-bedroom house with her two children last week. "I really like the details and how they finished it. I like the floor the best because of the grey hardwood and the cabinets are nice too."
The new homes are located near the soon-to-be-completed elders' lodge and Mirasty's neighbours are couples Shawn and Shannon Villeneuve and Delbert Aubichon and Natasha Fiddler. Mirasty and her children were previously living with her mother, Karen, and she said for years she applied to the band for a house without success.
"I talked to chief and council and told them I was looking for a home," Mirasty stated. "Since they started building, I kept talking to him (Chief Richard Gladue) about it and then all of a sudden I got word I got the house. It all came together."
Mirasty will pay the band each month in a rent-to-own scheme where someday she'll own the house. She noted it's a good feeling to be on the path to home-ownership and for her it's a lifechanger.
Fiddler and Aubichon moved into their house in June and Fiddler said it beats the basement apartment they were renting. They had lived in Meadow Lake for close to three years.
"This is my first time moving into a new house and it's really nice," Fiddler remarked. "Also, the kids get to roam around as much as they want now. It's a lot quieter out here and more peaceful."
The Villeneuves, meanwhile,' plan to move into their new house by September. The couple currently own their own in Meadow Lake, but now have it listed for sale. Shannon Villeneuve said they're happy and excited.
"The major thing is we won't have to pay land taxes and it's a brand new home," she said. "There's a basement, but it's unfinished so we're going to make more bedrooms."