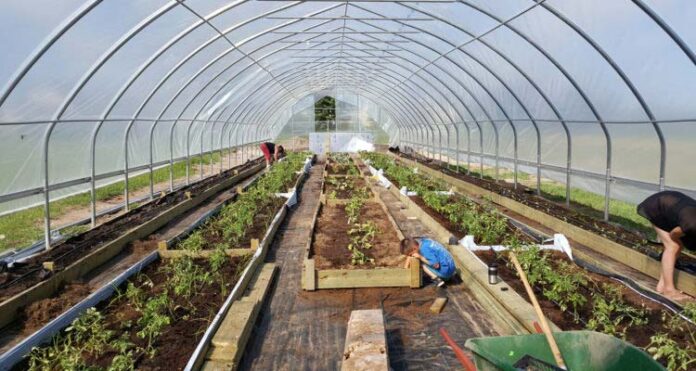 by Derek Cornet
The road to food sustainability in Beauval took a big step forward last month after the construction of a gardening tunnel.
"I'm really happy," said executive director Nick Daigneault of Beauval Development Inc. "I had been trying to get it off the ground for a while. It's something for the community, even though it's a small step in the grand scheme of things."
The $26,000 project was completed in June with the assistance of Murray Gray, a Saskatchewan farmer assisting communities throughout the province to build market gardens. Gray assisted Ile-a-la Crosse and Cumberland House with the establishment of gardens, which is how the village council in Beauval learned of his work.
"Last year we invited him, but the wildfire season put the project on hold," Daigneault stated. "We had him come scout a few sites where we could construct the tunnel and, since the school started a community garden, we thought it would be fitting to have our tunnel next to their garden."
The school's garden was built last year with the assistance of the student group Enactus from the University of Saskatchewan. It's located near the fire hall and produce grows in a fenced area.
Daigneault said both gardens will benefit from being side-by-side because community gardener Henry Caisse – who was hired July 8 – can monitor both.
Caisse will work six hours per day during the summer and continue with those hours until the season ends in October. Daigneault noted Caisse will also be instructed by Gray about how to maintain and operate the tunnel. He said as they adjust to the new tunnel, expansion to the garden will be discussed at a later date.
"It's a positive step forward and it's lifting people's spirits because they can see development happening," Daigneault added. "I also want to see the students get involved, so they can plant the seeds and come back and see the fruits of their labour before the harvest."