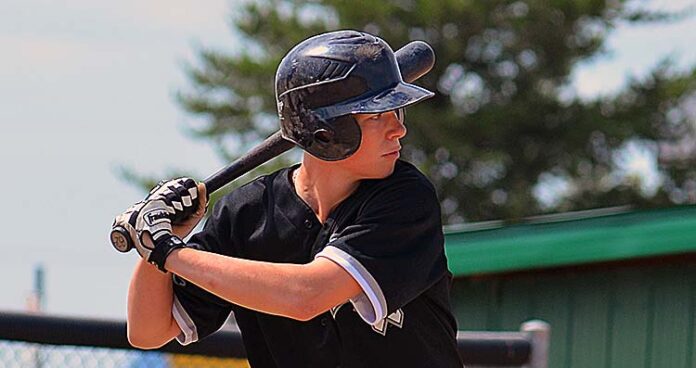 by Phil Ambroziak
Both his love and talent for baseball have taken Meadow Lake's Brett Esau many places in life. Now, it's ready to take him to the southwest United States.
Esau, 18, recently received a partial scholarship to Frank Phillips Community College in Borger, Texas. He leaves Saskatchewan Aug. 16 and classes begin Aug. 22.
"It's a city of about 15,000 people located north of Amarillo," Esau explained. "It's a Division 1 junior college, so I'm really excited about the level of competition I'll be facing."
For the last two years, Esau attended school at the Okotoks Dawgs Baseball Academy in Okotoks, AB. Prior to that, he played Midget AAA baseball with the Northwest Prairie Pirates from Lloydminster, has represented Team Saskatchewan at Canada Cup events, received several honours and awards and participated in the Tournament 12 event hosted by the Toronto Blue Jays organization.
"I am very happy for Brett," remarked Esau's father, Len Esau. "He has worked hard through high school to attain his goal of playing college ball. Now, I'm sure his goals will be readjusted and set higher to the next level – that being a transfer to a D1 four-year school."
Brett Esau said, this past season in Okotoks, his efforts were observed by numerous post-secondary schools, but Frank Phillips seemed the best fit for him.
"They gave me a call and said they'd seen some great videos on me the Dawgs Academy put out there," he said. "I took a look at what they have to offer in terms of baseball and academics, and it just felt right."
Although he doesn't yet know what he'll be studying in the fall, Esau said he's interested in associations of applied science.
Len Esau, meanwhile, said he's OK with his son moving far away for school.
"We will just have to plan a trip down to Texas," he said. "And, the living away from home part has been going on for two years now, so no big change there."
As for the future, Brett Esau said his primary focus still remains baseball.
"I haven't really thought of a career yet," he noted. "I want to see how far I can go in the sport first."
He went on to say how much baseball means to him and commented on the positive impact it's had on him throughout the years.
"Baseball has shaped my life so far," he said. "It's taken me to so many different places, and has also allowed me to develop as a person – both on the field and off. It's taught me a lot about life."