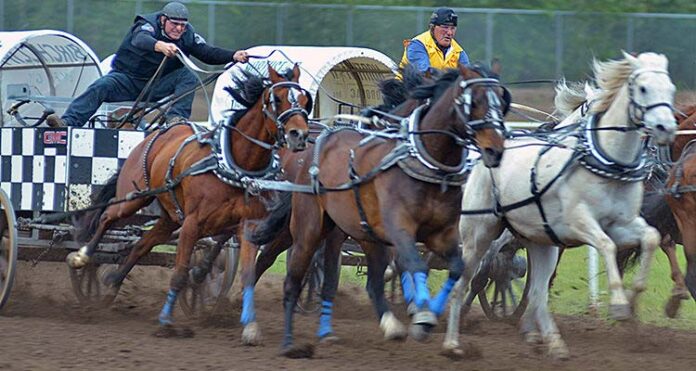 by Phil Ambroziak
By Sunday, the World Professional Chuckwagon Association (WPCA) will have crowned a 2016 world champion, but at least one follower of the sport says the season is likely to once again end with a whimper rather than a bang.
"My personal opinion is it would be nice if the finals came down to one race to determine the world champion – it would certainly be more exciting for the fans, but, unfortunately, that's not the way it's done," explained WPCA broadcaster Billy Melville. "I don't think there's a reasonable amount of excitement because it's not a true final as much as it's just the final show of the year. Our season just ends, and that's where I feel chuckwagon racing falls down. We have exciting shows all summer, but there's no final race to get excited over. That's something that needs to change."
In the 1990s, the WPCA did experiment with a sudden death dash to determine its champion, but Melville said things soon reverted back to the traditional means of crowning the driver with the most points throughout the season as the overall winner. The Canadian Professional Chuckwagon Association (CPCA), however, still holds a final dash featuring its top four drivers heading into the final day of races.
"We did it like that for a short time, and that's where the CPCA got the idea from in the first place," Melville noted. "In the WPCA, however there was a general feeling the guy with the best outfit over the course of the season should be the overall champion. With that said, it looks as though Luke Tournier (of Duck Lake, SK), for all intents and purposes, has it clinched this year."
Tournier currently holds the top spot in the WPCA driver standings with 1,135 points, while Meadow Lake's Gary Gorst is ranked second overall with 1,028.5.
"I'm really happy with where I'm at, and the ponies are running great," Gorst remarked. "It's going to be tough to catch Luke in terms of points unless something serious happens, but I never want anything bad to happen to any of my fellow drivers."
Gorst went on to say, if it weren't for a few barrels he knocked over early in the season, he could be sitting first right now.
"But, probably a lot of the other guys would say the same thing," he added. "Either way, we just have a few more days of racing and then we'll start looking forward to next season."
Meanwhile, Melville said the 2016 season as a whole has been a strong one even though there was some uncertainty early on.
"In spite of being under the dark cloud of tough economic times, this may have been one of our more exciting seasons ever," he said. "When I look at the world standings right now, I don't see the usual suspects. Usually it's the guys with the deep barns who dominate the season, but none of those guys are really in contention for the championship this year. In fact, with people like Tournier and the Gorsts, there are quite a few Saskatchewan drivers in the mix, which is fantastic to see."
This past weekend (Aug. 10-14), Tournier successfully defended his Battle of the North Championship with a win at the WPCA show in Dawson Creek, B.C. This year's finals (Aug. 18-21) take place in Rocky Mountain House, AB.
While Tournier and Gorst are the top two in the rankings respectively, former Rapid View Rocket Vern Nolin is currently fifth (992 points), Logan Gorst is sixth (986.5), Loon Lake's Roger Moore is 14th (844.5), Dustin Gorst of Meadow Lake is 20th (792.5) and Rapid View's Layne Bremner is 32nd (656.5).