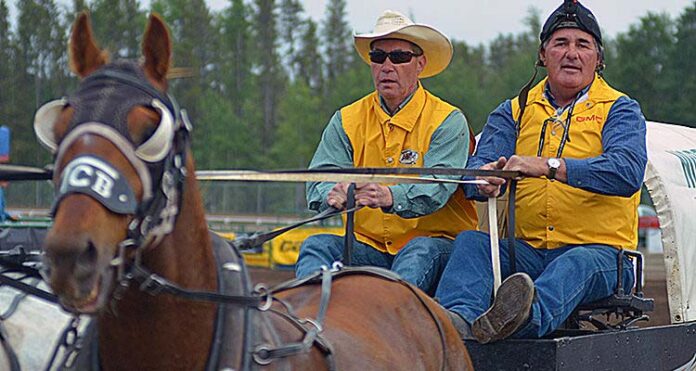 by Phil Ambroziak
Good things come to those who wait.
After four seasons with the World Professional Chuckwagon Association, one more day because of a rainout wasn't too much of a wait for Meadow Lake driver Gary Gorst who captured his first WPCA show championship Tuesday night (Aug. 2) in Strathmore, AB.
"I'm very happy," Gorst said when contacted the following morning. "I've been a bridesmaid about four or five times now, so to finally get the win was really nice."
Originally scheduled for July 29 to Aug. 1, the chuckwagon portion of the Strathmore Heritage Days Stampede actually finished up a day later because of heavy afternoon rains and powerful winds Saturday.
"I used my main outfit on the first day, then gave the horses three days off before bringing them back Tuesday," Gorst explained. "They worked to a tee."
Gorst won the Strathmore title after posting the best four-day aggregate time of 5:06.61. That put him 1.82 seconds better than John Walters of Delburne, AB who was runner-up for the second consecutive week.
Outriding for Gorst on the final night were Casey Knight of St. Walburg and Meadow Lake's Kale Lajeunesse.
"Casey was there because my son, Dustin, who normally outrides for me had just finished his heat (as a driver) and needed to tend to his horses," he said. "Kale's a local boy, so that was also really nice to see."
Speaking of "local boys" Gorst also said he's pleased to see so many Saskatchewan drivers achieving success this season. Traditionally viewed as an Alberta association, Gorst said more and more Saskatchewan drivers are beginning to change that perception.
"Logan (Gorst), Luke Tournier (of Duck Lake, SK), Vern Nolin (formerly of Rapid View) and me are all up there in the standings," he said. "I'm very proud of all these guys. Vern's won a show this year, Luke has had his victories and now I've got one. Many of us came here from the Canadian Professional Chuckwagon Association (CPCA) at one time or another, and we're doing a fine job. I believe 19 out of the 36 drivers this year originally raced in the CPCA, so this is quite a feather in our hat."
Tournier is currently ranked first in the WPCA standings with Gorst in second followed by Kurt Bensmiller of Dewberry, AB and Walters, while Nolin rounds out the top five. Logan Gorst is eighth overall, Roger Moore of Loon Lake is 15th, Dustin Gorst is 21st and Layne Bremner of Rapid View is 29th.
The WPCA Pro Tour takes a break this weekend before resuming at the Battle of the North in Dawson Creek, B.C. Aug. 10-14.
"I've moved up in the standings and will now be in the last heat when we get to Dawson Creek," Gorst noted. "That's going to be a good test."