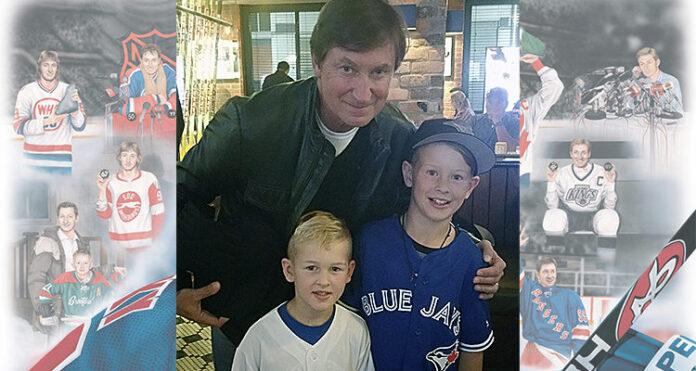 by Phil Ambroziak
"It was a once in a lifetime opportunity."
That's how Meadow Lake resident Kalie Alger described the chance meeting her family had with hockey great Wayne Gretzky recently in Toronto.
"Our boys – eight-year-old Kash and five-year-old Linkoln – love baseball and hockey, so we planned a trip to Toronto Sept. 23-26 to take in three Blue Jays games and two World Cup of Hockey games," Alger explained.
As exciting as the trip itself was, Alger said things quickly became even more memorable for the youngsters when – on that Friday night while seated above the Jays' bullpen with gloves at the ready – they were each tossed a ball.
"Saturday night was the Canada/Russia hockey game," Alger continued. "The atmosphere there was unbelievable. The game was close and the boys couldn't believe some people sitting behind us were speaking Russian. Canada ended up winning and the arena was just vibrating."
Sunday saw the family – including dad, Kent East – at their second Jays game where, this time, they were seated at third base. Remembering their baseballs from the previous game, the boys secured autographs from players Ezequiel Carrera, Matt Dermody and Danny Barnes.
"They were in their glory, beaming from ear-to-ear, bouncing in their seats from what we thought would be the ultimate highlight of the trip," Alger noted.
How wrong they were, however. The biggest highlight, Alger said, came the next day when the family decided to eat lunch at a restaurant owned by hall of famer Wayne Gretzky.
"We were standing in the entry waiting to be seated, admiring some of the photographs and trophies displayed from Wayne Gretzky's life when Kent looked up and saw Gretzky himself walk right past us," Alger said.
East said hello to Gretzky who nodded as his bodyguards continued to escort him into the restaurant.
"We were then seated not too far behind him," Alger noted. "The restaurant started buzzing with excitement as people began to realize he had entered the building. Kent took the boys to the front and purchased two red Wayne Gretzky hats in hopes of getting his autograph, and he was very friendly and more than willing."
Alger said more people then began to flock to Gretzky's table, so the restaurant manager and bodyguards had him and his party moved to a private room.
"We were just finishing up when he came up to our table on his way out, patted Kash on the back, shook Linkoln's hand and thanked us for coming to his restaurant," she said. "So, we asked for a quick photo. He stood behind the boys and covered Linkoln's face with a hat he had in his hand, and the boys laughed. The entire way back to our hotel was all about Wayne Gretzky and how we couldn't believe we not only ran into someone at the restaurant, but that we ran into "The Great One."
Not only are Kash and Linkoln hockey fans, but they both play the sport locally. Kash has played three seasons in Pre-Novice and is now in his second year of Novice. Last spring, he was asked to play for two different AAA hockey teams.
"We said yes to the first one and we were on the road every Sunday at 6 a.m. for a six-hour commitment to on-ice and off-ice training," Alger said. "We didn't return home until around 10 p.m."
Linkoln started in the Meadow Lake Minor Hockey program at age three, and had one year playing with his older brother. He is currently in his third year of Pre-Novice.