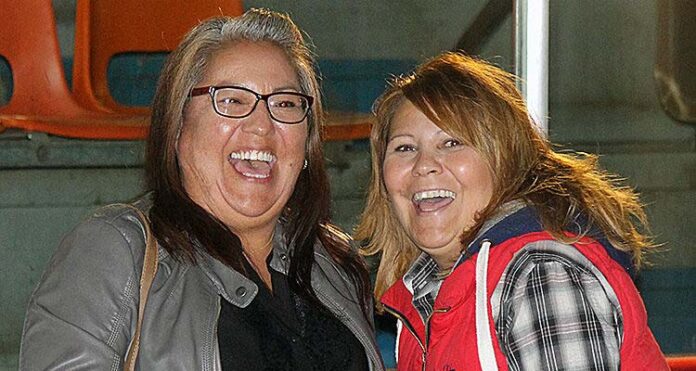 by Derek Cornet
Proud, honoured and humbled.
Those are the words Meadow Lake's Lorrie Church used to described an Oct. 1 benefit concert in support of her battle with bone marrow cancer. The fundraiser occurred at the Meadow Lake and District Arena and was opened by award-winning Métis gospel singer Yvonne St. Germaine. Some of the other musicians who performed included Ray Villbrun and Red Blaze, Feedback, Leonard Adams and Dean Bernier.
"They've all agreed to come and support me and I'm so honoured," Church stated. "For many years, I sang and entertained all over the place. It surprises me yet how many people remember who I was as an entertainer and who I am. It's nice to see people who travelled and support what I have and what I'm going to be going through."
Church was diagnosed with cancer in January and will be travelling to Saskatoon this month for a bone marrow transplant. A family member will be donating the marrow and Church noted a team of doctors and other people have been there since the beginning to help her.
"This is not an easy thing to deal with," she remarked. "I'm excited because I'm tired of being sick, but at the same time, I'm scared. It's nice to see all the people who've come out. I'm just so thankful and grateful for their presence."
The benefit – organized by friends Lance Whitecalf and Danny Mirasty – raised close to $10,000 which will go toward medical expenses. About $4,000 was raised in entrance fees alone, while the remainder consisted of donations. Also, more than 200 people attended the concert.
Church is a well-known musician and has received numerous awards throughout the years. She has several from the Saskatchewan Country Music Association and Canadian Aboriginal Music Awards. Church was also given the Canadian Country Music Association's Wrangler Rising Star. She calls music her saving grace.
"I've always enjoyed performing for people – it's healing," she commented. "You can have your highs and lows with it. It's an emotional journey."
Whitecalf began playing music with Church in the late 1980s in the Blue Water Band. After it disbanded, the two continued performing together and did so for the next seven years. In that time, Whitecalf said they became like brother and sister and formed a camaraderie he will never forget.
"We lost contact, then last year she was planning on making a comeback and I played with her for a couple gigs," he stated. "But, since then she was diagnosed with the disease and it's been overwhelming for her. Because of her condition, she can't work and costs build up."
Whitecalf said, because of the amount of donations received before the concert, enough funds were raised to pay for the cost before it started. That means all cash raised during the event went directly to benefit Church.
"Lorrie stayed the whole night," he added. "She was trying to clean up and we told her not to. But, that's how she is – she always wants to help. That's one of the reasons we did this fundraiser because she was always the first to say yes if we were going to do a fundraiser back in the day."