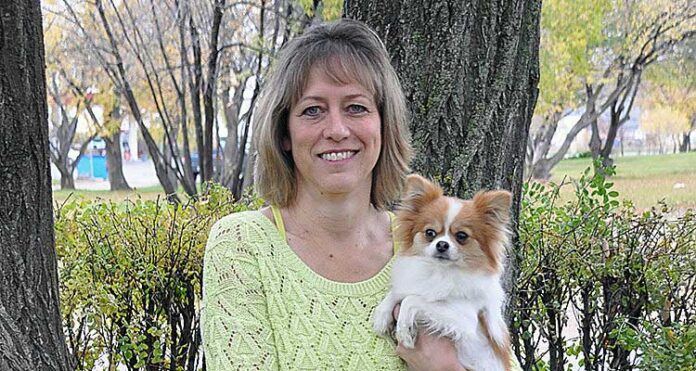 She works for the MLA and she's married to the mayor, so Lori Vidal knows a thing or two about political intrigue. Recently, Lori spoke with Northern Pride about her involvement in the community, the importance of faith and the love she has for her family.
Q: Most people are familiar with your husband's role, but what do you do for a living?
A: For most of our married life I've been a homemaker, but I actually started at the accounting office (currently Pliska Vidal & Co.) before Gary did. I did secretarial kind of stuff. That was my first job here for several years. More recently, I've worked for MLA Jeremy Harrison.
Q: What do you do at Jeremy's constituency office here in town?
A: We (office staff) basically represent Jeremy locally. We're the people the public meets or talks to because Jeremy is in Regina so often. We act as his hands and eyes here in town. Jeremy likes to be informed about what people are concerned about. There are certain things he likes to become more involved with depending on the subject matter and what he's able to do.
Q: What are some of the main concerns or issues people bring to your attention?
A: We deal with a lot of social services matters, housing issues and social assistance problems. We also get a fair number of calls about highways and medical issues. Jeremy has been immigration minister for a while, so we also deal with a lot of people in that area too.
Q: Everyone knows Jeremy Harrison the politician. What's Jeremy Harrison the person like?
A: Jeremy is right up there. He's one of the top dogs in the government and I wish people could see how much time and effort he puts into the job and how much weight he carries as far as wanting to be there for the people. When you're somebody at his level, you typically eat, sleep and breathe what you do – in this case politics. Jeremy does have hobbies – he's really into hunting – but he loves to talk shop. That's his passion. He and his wife, Alaina, are a wonderful pair because she's very knowledgeable about what goes on, she's very much a backup for him, a sounding board, whatever you want to call it. She's very well-suited to that role as a politician's wife.
Q: Speaking of which, you're also a politician's wife. What's it like to be married to the mayor of Meadow Lake?
A: I'm happy to talk politics to a point because it's an interest of mine as well, but wherever we go it tends to become the dominant subject. It's either that or hockey if you know my husband. We get approached often when in public, but I've come to realize Gary isn't just good at what he does, he's exceptional at what he does. People rely on him so much for his expertise. He's very knowledgeable, and a lot of people want his time and input. It's not always fun, though, because a lot of the time people will say to me, "get Gary to do this, get Gary to do that," and, sometimes, I'm feel like saying, "Would you just leave him alone." I want a life outside of his duties, so it can get to be very frustrating at times.
Q: Are you excited about the fact Gary has been acclaimed for another four-year term?
A: What helped Gary when he was first elected was he went in without an agenda of any sort. Someone likely had the idea Gary should be mayor and said it to a few people because, within the span of a month or two, he had all these people calling him saying I heard you're thinking of running for mayor. He had old people stopping him while he was out jogging, hugging him and saying you need to run for mayor. He came with a blank slate and that is what was important. I actually encouraged him to continue for one more term because, seeing as I work at Jeremy's office and know of some of the things coming down the pipe, with Gary serving for another term, there's a good chance a lot of these things will happen. To me, city politics is not the same as provincial. It's not as heavy in terms of moral things. It's more black and white.
Q: I understand you are part of the Meadow Lake Co-op board of directors.
A: Actually, I just got off the board last spring, but I was on there for about 12 years. I served as secretary and as a general board director. I grew up in Vancouver, so when I moved here 30 years ago, I'd never heard of shopping loyalty like you do in a small town. When someone asked me to be on the Co-op board, I knew nothing about Co-ops. I didn't know what a Co-op model was, and I wasn't going to join if it meant I couldn't darken the door of another business. That's an archaic thing in my mind, but I was assured that wouldn't be the case. When I joined, I was the only woman on the board for a while and I wanted to be a woman's voice. That was something I felt the Co-op had lacked over the years. The guys were really good to me, I had a lot of questions because I didn't grow up on a farm. It was a huge learning curve, but they put up with me and think a lot of them appreciated me asking asking so many dumb questions.
Q: What made you decide to step down?
A: There are other women on the board now, so I felt a woman's voice was being carried. And, after being there for that long, I just didn't have the same drive or interest I did that many years ago. I thought, to do it justice, someone else needed to step up.
Q: Are you currently involved in any other initiatives throughout the area?
A: Our church life is important to us. I've been on various committees – a lot to do with Sunday school – and my involvement with Bethel Gospel Camp has been something that's been on and off. Our cabin at Jeannette Lake is close to the camp, so I like to be involved whenever I can. I'll help with anything from kitchen to maintenance, and I spent a lot of time painting there this summer.
Q: How did you end up in Meadow Lake?
A: I was attending Briercrest Bible College in Caronport, SK, and Gary was there as well. We were in the same classes together and he chased me. I finished two years there, and we ended up getting married and moving here together. Gary, of course, is originally from Meadow Lake.
Q: Tell me more about your family.
A: We have four children. Kent, our oldest, is married and lives in Regina. He's got a business administration degree with some accounting, and he went to Briercrest as well. Our second, Mac, has been out of school for a few years. He worked for a year before going to New Zealand to attend an adventure Bible school. Right now, he's back in school in Alberta for a similar program, but one where he can get a little more certification to be an outdoor guide. Our daughter, Nicole, is in Vancouver living with my mom in the house I grew up in. She just finished a one-year photography degree and has developed her skill very well. Our youngest, Alex, is in Grade 12 this year, and he loves hunting and fishing. He's also interested in possibly pursuing a trade one day, but right now he's just enjoying life and his friends.