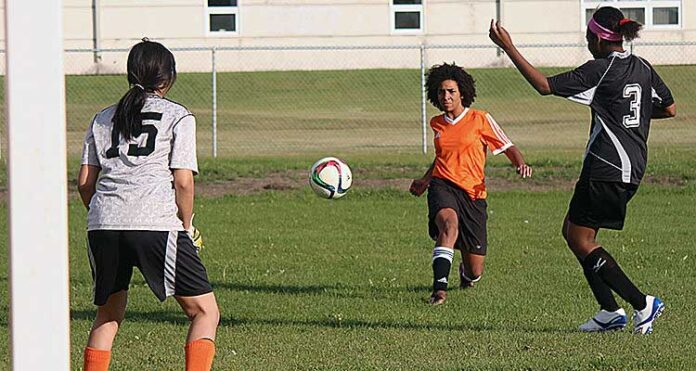 by Derek Cornet
It's been a good start to the season for Meadow Lake's Carpenter High School girls soccer team.
That's according to Spartans coach Renee Wiebe, who said their most recent game against Onion Lake Oct. 3 was the best so far. The Spartans were victorious 9-1 at the home match, scoring five goals in the first half and four in the second. Onion Lake recorded their sole goal in the last five minutes of play.
"I didn't think we would improve so much to where we are now," Wiebe stated. "I thought we'd still be working on a lot of small things, so now we can focus on plays and their cardio."
The match, however, wasn't balanced considering the opposing team arrived three players short and Carpenter lent them some players to continue. Wiebe described it as an exhibition game and players were able to work on positioning, as well as learn each others' strengths and weaknesses. During the match, goals were by Leila Mitchell (three), Jordeane Lafond (two), Alexa McKee (two), and Baylee Dull and Savanna Russell (one each).
"I lent them players so I could keep my lineups the same, so we could continue working on moving the ball up the field," Wiebe added. "High school sports is all about having fun and learning."
Earlier, on Sept. 30 and Oct. 1, the girls travelled to a tournament at John Paul II Collegiate in North Battleford. While the Spartans fell in their first match against Debden's Se-Se-Wa-Hum School, they beat John Paul 5-0 and North Battleford Comprehensive High School 6-5 to finish in second place. Mitchell earned five goals in those games and McKee scored two.
McKee is a Grade 12 student and has been playing on the squad for three years. She was nervous when the season started because half of the players are new, but said they're performing well together.
"We never played Onion Lake before, so I didn't know what to expect," McKee remarked. "I was pretty happy with the results. They're a really good team to play against."
The team practices three times a week for about an hour-and-a-half per session. McKee noted they work on passing, communicating and running during that time. They also break into groups where Wiebe will work with defensive and midfield players, while assistant coach Dave Cubbon will instruct the offence and goalie. McKee believes their training is helping her perform better.
"I used to play more defense, but they moved me up this year and I've been doing well as a forward," she explained. "I've been scoring some goals, so I'm excited."
The Spartans play next at the regional competition Oct. 21 and 22, but the location has yet to be decided. Provincials will be held Oct. 28 and 29 in Saskatoon.