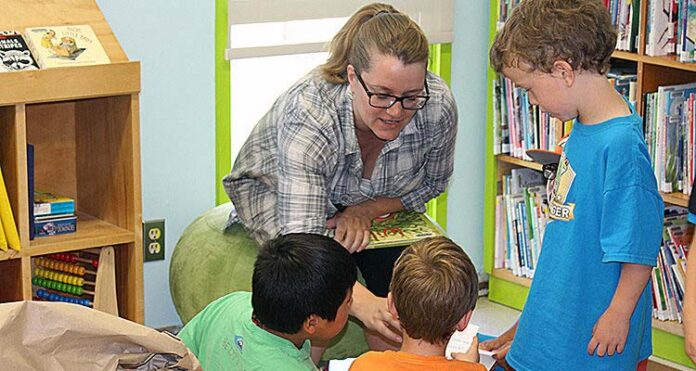 by Phil Ambroziak
A lot can happen in 70 years.
And, although it's gone through its own fair share of changes in that time, one constant that remains to this day is the high level of service provided by the Meadow Lake Library. That's what everyone associated with the library has been saying in the lead-up to the facility's 70th anniversary celebration.
"The library has been a presence in Meadow Lake for a long time," explained current branch manager Audrey Marsh. "It started with a small selection of children's books and has grown into a thriving community space where literacy is more than just reading books. Whether you're looking for a computer to use, a space to read, study or play a board game, come to the library. Our children's area is a great place for some family time as well. I'm proud to work in such a welcoming place."
It was a women's service club known as the Stagettes that helped establish a library in Meadow Lake back in 1946. As Marsh stated, it began as a juvenile library and was located behind a drug store on Centre Street. When fire overran most of the block in 1951, however, club members were able to rescue the books and transfer them to the town council chambers.
In the early 1950s, the Imperial Order Daughters of the Empire (IODE) took responsibility for the collection, while Wilhelmine Graham was named the community's first librarian. The library itself remained at the town hall, adjacent to an area where prisoner cells were located. In 1961, Jean Gorst took over as librarian and held the position for many years. For the majority of her tenure, the library was situated on the west side of town hall across from the old post office.
In 1972, the library became part of the larger Lakeland Library Region, which resulted in an influx in new books and materials, as well as the requirement for town council to have a representative on the library board to oversee the branch's affairs. Soon, library services were also made available to nearby rural residents in addition to those living in town.
Eventually the library was relocated to 1st Street West (in the building that currently houses Investor's Group) before settling at its current location (the former Northwest School Division office) on Centre Street in the 1990s.
Today, the library is a public service cost-shared by the City of Meadow Lake, the RM, as well as the provincial government.
"It's very exciting for Meadow Lake to be celebrating 70 years of library service," noted former branch manager Tara Million.
Million, who currently serves as manager of library services at the Hinton Public Library in Hinton, AB, served as head librarian in Meadow Lake from 2006-2013.
"I'm very proud to have been part of the library and to be part of its history," Million added. "It was the first job I had as a library manager and I have a lot of great memories of the patrons, the other staff and the library board. That was where I discovered my passion for library services and decided to make that my career."
To mark the 70th anniversary, the library will host a come and go tea Oct. 19 from 7-9 p.m.
"I'm disappointed I won't be able to attend the actual celebration, but I'm sure everyone will have a wonderful time," Million continued. "This is such an amazing celebration for the community."
Marlynne Samson, who served as a library board member from 1995-2010, agreed with Million.
"The library, in my life, has always been very important," Samson, who served as board chair for nine years, stated. "It's wonderful to see how it's grown over the years – moving from place to place and increasing it's overall collection. In the early 2000s, I remember we had to fight to get the proper staff in place (before, staff consisted only of a librarian and two pages) because the library had grown so much. Now, with inter-library lending and access to a province-wide collection of materials, its just wonderful."
Tawn Marshall, the current programming clerk at the library echoed both this and Marsh's earlier comments, stating the library is about a lot more than just books these days.
"I'm a big reader, so, for me, libraries have always been about celebrating books and writers," Marshall said. "And, while our increasing circulation statistics show people are still reading in droves, we – and libraries in general – are continually evolving in response to changing community needs. Lots of library users aren't actually readers. Many people are here to study, to play a board game, to spend family time in the children's room, to take part in a program or just to meet a friend. I always say libraries are one of the only places where loitering is encouraged."