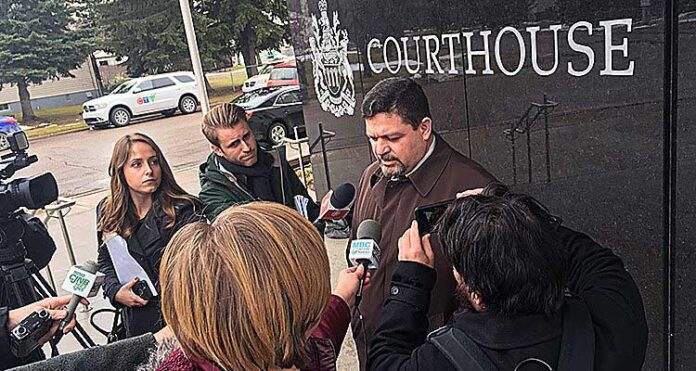 by Derek Cornet
There will be no trial for the La Loche shooter after he entered guilty pleas for the murder of four people and the attempted murder of seven others.
The pleas took place at Meadow Lake provincial court Oct. 28 in the presence of Judge Janet McIvor, prosecutor Lloyd Stang, defence attorney Aaron Fox and close to a dozen reporters. A live feed was also displayed in La Loche, so residents there could witness the proceedings.
The shooter – who was 17 at time and whose name is protected under the Youth Criminal Justice Act – pleaded guilty to two counts of second-degree murder in the deaths of brothers, Dayne and Drayden Fontaine. He pleaded guilty to first-degree murder charges in the deaths of teacher's aide Marie Janvier and teacher Adam Wood, and to the attempted murder of seven others. The charge of unauthorized possession of a firearm was stayed.
"This case has moved ahead swiftly bearing in mind the nature of the charges," Fox said following the proceedings. "Everyone has tried to make that happen in both the Crown's and defence's perspective. We know it's impacted a lot of people. They are serious charges, there's a lot of evidence and, I think, it's moving ahead quickly."
Next, court-ordered psychological and psychiatric reports of the now 18-year-old will be conducted. He's also due to appear in court again Jan. 31, but will participate in hearings in May and June in La Loche to determine if he should be sentenced as an adult.
"I would say an important aspect is the seriousness of the charges and the seriousness of the incident overall," Stang said of the reason why the shooter should be sentenced as an adult.
Stang told reporters it's important for the hearings to be held in La Loche, so residents in the community can witness the justice process unfold and how the decision will be made.
The mass shooting occurred Jan. 22 and resulted in the death of four people and injuries to seven others. The shooting began at a house in the community, before it came to an end at the Dene Building of La Loche Community School.