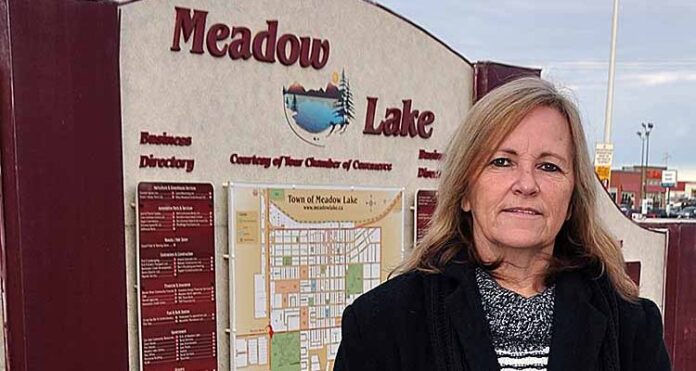 With the Meadow Lake and District Chamber of Commerce's annual Holly Jolly promotion underway, administrator Adriane Ouellette finds herself in the midst of a very busy time of year. Recently, however, Adriane did chat with Northern Pride about Chamber initiatives, her family and her love for the community.
Holly Jolly promotion.
A: We've actually gone back to the way they were doing it a couple of years ago. For every $20 people spend at a participating business, they receive a stamp on their Holly Jolly card. Once they reach $400, they can enter their card into a draw box here at our office. Winners of three big prizes will be announced Dec. 20. The businesses decide if they want to participate and, of course, there is a cost to that, which covers the cost of printing the cards, as well as advertising.
Q: Why is it important to the Chamber and the community?
A: Firstly, it promotes Chamber members and, secondly, it encourages people to continue shopping locally.
Q: Does the Chamber have any other big events planned for the coming year?
A: Of course, the Meadow Lake Business Excellence Awards (MLBEX) is always a big thing – that will be coming up in March. And. We're working on a few other things for next year's Summer Sizzler event.
Q: Tell me more about your role with the chamber and what you do on a day-to-day basis.
A: Well, there are lots of meetings and a number of the members will contact me for usage of the signs we have around town (outside the Chamber office on Highway 4 and at the intersection of Centre Street and Railway Avenue). It seems like I'm awfully busy, especially right now with being in the midst of Holly Jolly. That's taking up a lot of time, and we have new businesses that have moved to town, so there have been a few I've been visiting. And, I'm always staying in contact with the various Chamber members – just trying to keep things operating.
Q: What are some of the rewarding aspects of being involved in the Chamber and with its different events?
A: It's always important to be community oriented. Being part of something in your community is always important. We've also been trying to revamp something the Chamber started called Business after Hours. It gets businesses together, and people communicating and working together. In the past, however, it was always so formal. We decided to make it less so. Our last one was all about learning how to make the perfect burger. Home Hardware hosted the event and brought in a fellow who was, of course, promoting the brand name barbecues and such he represented, but everyone came out, made their own burger, saw all the things he was promoting, and everyone had a really good time. It was a small enough group that everyone was talking, and everyone left with a really good feeling. I really hope this sort of thing continues and more business people get together. The more you can work together, the better it will be.
Q: How long have you been in your current role?
A: I'm going into my seventh month.
Q: What was it that made you decide this was something you wanted to do?
A: It was the previous Chamber administrator, Donna Ritco, who contacted me about it. We had worked together on different things. I'd worked for the government and believe she felt I would be good in this role. I didn't have a good understanding of the Chamber. I thought maybe there were changes we could make to help promote Meadow Lake a little differently, and coming into it I had a lack of understanding. I'm learning as I go. Donna was a great help to me and, as you know, I work with a board that makes the actual decisions, while I simply administer what it is they decide. It's good.
Q: What is the biggest factor that's impacted the economy?
A: Oil has affected things definitely. For a lot of our young people, that's where they were working. Of course they're laid off now, hoping things turn around. Then you look at your farmers. There are many of them who didn't get their crop off and that plays a role. Everyone is watching his or her pennies. The wood could not be hauled out to the mills because the ground wasn't frozen. This community and the monies involved – it's been tough this year.
Q: Are you optimistic things will improve sooner rather than later?
A: Always. This is just a hard year and it has to get better.
Q: Prior to the Chamber, what did you do for a living?
A: I've worked all kinds of jobs, but spent the most years at the provincial constituency office and at the Meadow Lake Progress. The last job I had was with M.L. Truck and Auto Parts, but they ended up having to close their doors.
Q: Are you originally from the area?
A: I was born and raised here. When I was small, home was the Cabana-Neeb area. Then, my dad took over the farm in Dorintosh and we moved there. That's where we stayed. As a young person you can't wait to get out, so you eventually go and do your thing. But, when it comes to raising a family, you realize how important your family is because you need your family. Lennard, my husband, and I are both from here. We live in the Bear Creek area now.
Q: What is it about the area that keeps you here?
A: Is there any better place to be, really? Meadow Lake is the best place to be. You've got the parks nearby, my husband is also a pony chuckwagon driver, so it's a good place to be as far as that's concerned. And, work has never failed us. We've always had jobs and family is family.
Q: Are you involved with Lennard's racing career as well?
A: He works shift work at the pulp mill, so yes, I am his help. He's working nights right now, so I have the nighttime chores. We both look after our stock. Right now, all you're doing is feeding, but in the spring I train and exercise horses, have them on a feeding regiment – that's just what we do.
Q: Tell me more about your family.
A: Lennard and I have two children together. Jennifer is married to Chris Albers and they live in the Loon River area on a small farm. And, we have a son, Keegan, who lives in Meadow Lake. He works for the Northwest School Division as a system administrator. My daughter has a little one and she's at home right now, but that's probably more of a full-time job than anything. I also have a stepdaughter, Shyla, who lives in North Battleford. She has a seven-year-old daughter and is expecting her second child in days.
Q: What's it like to have family close by?
A: You secretly pray they're going to move home, and they all did. So, it's good.
Q: Do you have any personal interests or pastimes?
A: I try to make the rounds to see the grandkids and spend time with family. I used to be involved with the Bear Creek Gymkhana Club, which is something I've always enjoyed, but in reality I spend most of my time in the barnyard.
Q: Is there any advice you've been given and which you like to share with others?
A: Kindness is important. It's something the blind can see and the deaf can hear.