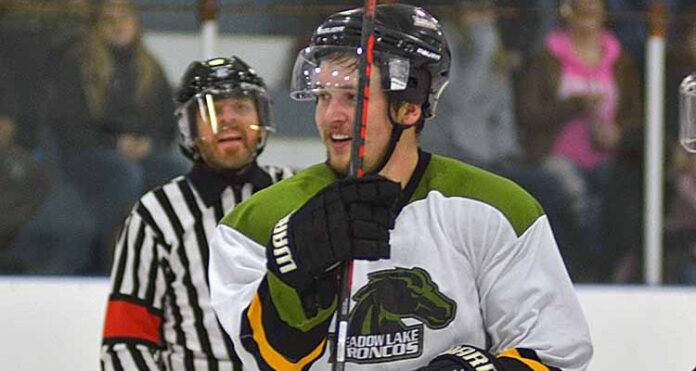 by Phil Ambroziak
Timing is everything.
That's what Tyler Wilson of the Meadow Lake Broncos came to realize when – after playing for the Beaver Lakes Hockey League (BLHL) team since its inception in 2012 – he missed out on being part of last season's championship roster.
"It would have been nice to have been here for that, but there was room for some really well-skilled players last year and they put together a very strong team that worked really hard to earn that league title," Wilson explained.
The former Broncos captain was forced to miss the 2015-16 campaign because his job with a construction company found him spending most of the winter at the Canadian Natural Resources Ltd. (CNRL) site in the far North. Now, however, he's taken up work as a guide for a local outfitter allowing him to return to the Broncos and pick up where he left off two years ago.
"Last year there was no way I could fully commit to the team," Wilson said. "I'm happy to be back this season, but at first it was tough to get back into hockey shape."
So far this season, Wilson has scored one goal and one assist for two points. His lone goal was scored during Saturday's (Nov. 19) away game against the Big River Braves that saw Meadow Lake skate away with a 9-1 victory. In addition to Wilson's goal, which came around the halfway mark of the third period, also scoring for the Broncos were team captain Taylor Arnold and Darren Caron with two apiece, as well as single markers from Brody Brooks, Scott D'Jonaire, Ashton McIntyre and Dale Mitsuing.
"We had a deeper lineup than Big River did that night," Wilson continued. "We wore them down with our puck control and, once they became a little gassed, we rolled right over them."
As for Wilson, he said his plan is to continue to fill his role on the team in an effort to help the squad earn back-to-back league championships. He also hopes to stay injury-free considering he is a two-sport athlete. During summer rodeo season, he competes on various circuits as a saddle bronc rider.
"Injuries are something you have to accept when competing in both of the sports I've chosen to be a part of," Wilson said. "I've been playing hockey all my life, though, and always try to play as much as I can during the winter in order to stay in shape for rodeo season."
Next up, the Broncos are on the road Saturday (Nov. 26) to meet the Whitefish Flyers. The team's next home game is Dec. 3 against Big River.
Meanwhile, the La Ronge 89ers were also in BLHL action on the weekend, defeating the Sandy Lake Chiefs in Sandy Lake by a score of 7-2 Nov. 18. In a return game played Nov. 20 in La Ronge, however, Sandy Lake won 10-9. La Ronge will also be on the ice next this Saturday when they host Big River.