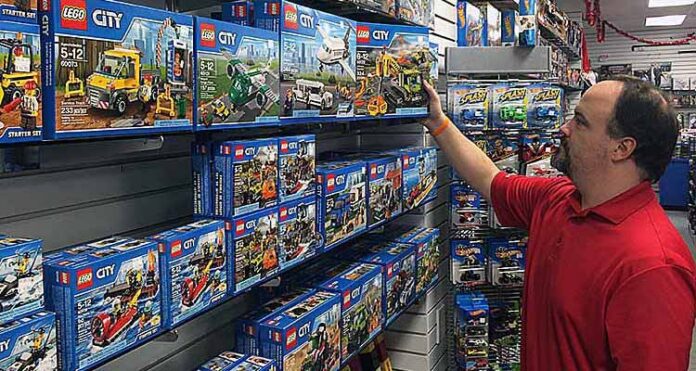 by Phil Ambroziak
Santa Claus arrives in less than a month, and his elves expect to be busier than ever between now and Dec. 24.
Those same four weeks are also expected to be equally as busy for Meadow Lake and area shops and services, as residents and visitors alike scramble to complete their Christmas shopping lists in preparation for the big day.
"It's all about going above and beyond," explained Wayne Marsh of Meadow Lake Home Hardware Building Centre when describing what local businesses do to entice more traffic to their stores during the holidays.
Home Hardware was one of several businesses in Meadow Lake to stay open late Friday night (Nov. 18) as part of the annual Moonlight Madness initiative. Although Marsh also serves as president of the Meadow Lake and District Chamber of Commerce, Moonlight Madness, as well as the "Gourmet Night" hosted by Home Hardware Friday evening, are not Chamber-related.
"It's just a matter of some of the businesses collaborating and giving the people a reason to stay out late and shop," Marsh said. "There were a number of deals out there, all designed to show people we want their business. We want them to stay in town."
Marsh went on to say it's always been a challenge when competing with the larger centres simply because of the greater selection places like Cold Lake, North Battleford and Lloydminster have to offer. In more recent years, online shopping has also become more prevalent.
"In many cases, people just use a shopping trip as an excuse to go out of town and do something different," he added. "For us, it's a matter of looking at ways to fill the void. As business owners we're always looking for the opportunity to serve the community and to have fun while doing it."
Dave Martodam of Martodam's The Clothing People agreed. His store also participates in Moonlight Madness each year and Martodam said it's become sort of a holiday tradition in Meadow Lake.
"Many stores bring in extra or different products at this time of year, especially with Black Friday (Nov. 25) coming up," he said. "For us, we'll also be open extended hours starting in mid-December, and we'll be open the Sunday before Christmas. We want to provide that added service to the people who work nights and such and who may not be able to make it to our store during regular hours."
Martodam also said he is not opposed to placing special orders when possible to meet customers' gift giving needs, adding Christmas is always a big time of year for all businesses in the community.
"Rodeo and Christmas used to be the big events for us in terms of sales – and it's still busy," he noted. "It's important to support local businesses because, if you don't, that business may not be there when the time comes that you really need something."
This was echoed by Vince Tracey, store manager at The Source, another business in Meadow Lake that participated in Friday's Moonlight Madness.
"It's very important for people to shop local," Tracey said. "If not for the customers, the businesses wouldn't be here. To survive as a business we do need to have the patronage of the area."
Tracey also said his store has been gearing up for Christmas by bringing in extra inventory as early as September.
"The Source offers us some special buys on things and we follow it all the way through," he added. "We also have the flyer program for The Source and they are very competitive about keeping the prices on for the season. They compare with other major retailers across the country. We also try to pump up the volumes a little bit, make it a little more presentable. If there is a time of year where want to do that, it's at Christmas."