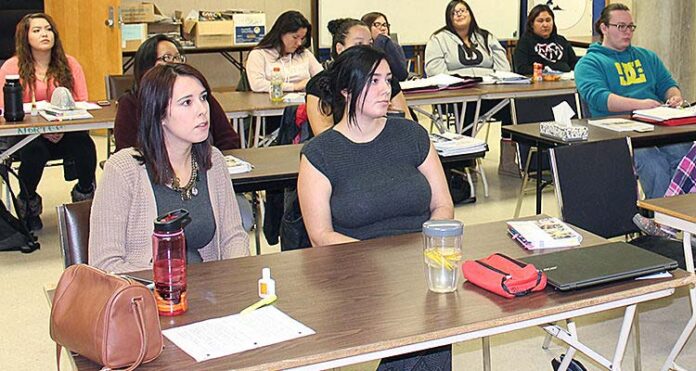 by Derek Cornet
Deep roots in history
The wheels of time have taken a sharp turn in northern Saskatchewan.
"If you really want something, you make it work no matter what," said third-year Northern Teacher Education Program (NORTEP) student Sheena Morin. "There's been times I wanted to pack up, leave and get a job, but this is what I want. It would be devastating for me if NORTEP was closed. I put a lot of effort and work into this program, and I would like to finish it."
Morin is one of 133 students who are stuck in limbo ever since the provincial government announced in August changes were coming to NORTEP, and its counterpart, the Northern Professional Access College (NORPAC). At the heart of the issue is $3.4 million – which consists of 72 per cent of the institution's budget – that advanced education minister Bronwyn Eyre believes can be better spent. A Saskatchewan Party MLA, she wants those dollars redirected in an effort to make post-secondary education more equitable for northerners.
Located in La Ronge, NORTEP was launched 40 years ago with support of the New Democratic Party. The political atmosphere was much different back then, as Allan Blakeney was in the midst of the second of three terms. In 1976, Keith Goulet – who would later serve as an NDP MLA from 1986-2001 for the Cumberland constituency – was hired by Northern Lights School Division (NLSD) to secure funding for a teachers education program.
"It was probably the most unique governance structure in all of Canada," Goulet remarked recently about the founding of NORTEP. "A lot of northerns were in tune with the idea of them making the selection of who the board members should be – that's why it came under NLSD."
According to Goulet, the move ensured the program remained under total northern control, with those on the board of governors hailing from the province's north. Currently, the NLSD, Ile-a-la Crosse School Division, Creighton School Division, the Meadow Lake Tribal Council, Lac La Ronge Indian Band and the Prince Albert Grand Council are represented on the board.
Back then, however, a portion of NORTEP's funding was contributed by the federal government. Through a cost-sharing agreement with the provinces, certain northern areas could receive assistance with various endeavours including infrastructure and education. Goulet added, in the mid-1990s, federal support began to drop until it finally came to an end in La Ronge.
"It was a good example of federal and provincial cooperation with shared costs and benefits," Goulet claimed. "It's probably one of the top level programs in Canada. Its success rate is more than 90 per cent, so people do get jobs. A lot of time training is on a hit and miss level."
Potential changes to NORTEP don't sit well with Goulet, who believes cutbacks will reduce its success. He stated the province should be examining the long-term implications, noting the program has deep roots in history. As a former cabinet minister, Goulet said changes should stem from a large amount of people asking for them, which doesn't seem to be the case.
"It's the northern pride factor it has about it – it's something you can put a number on," he concluded. "It raises the spirits of people – people get exuberant of wanting to do something. People are very proud of this program. It brings people together in the North to be proud, not only of their sons and daughters who are graduating, but of a program and how it evolved to work with First Nations, Métis and non-aboriginal people."
The days of the Saskatchewan NDP, however, are nearly a decade in the past, as Sask Party premier Brad Wall continues to hold a tight grip on power. Following the 2016 election, his government announced a period of transformational change in the 2016-2017 budget. It states the comprehensive process will study and scrutinize everything the government does, and will look at both the spending and revenue side of the equation to strive for a proper, sustainable balance between the two.
Balancing what matters most
"Most of the staff have a positive mind and keep me positive saying they'll continue for us," stated Sheena Morin, who is unsure if she'll be given an internship placement next school year. "It does concern me, but there's nothing I can do about it. I might have to transfer to Saskatoon or somewhere else they offer the program."
Morin is a single mom who calls Turnor Lake home, but she's been studying at NORTEP since 2013. She shares a program-owned apartment with her 14-year-old son, Keithen, and said she's struggling now to make their future's brighter. Morin supports them with a combination of student loans and about $1,000 per month via a NORTEP bursary.
Being a Métis person living in northern Saskatchewan, Morin said her financial options are limited. She stated once rent and power are paid, she has $300 left for groceries and other expenses. Morin even took a job at the school as a part-time librarian to manage her budget, saying she made sacrifices because she believes in NORTEP.
"They won't just leave me out there by myself," she commented. "If I was stuck on a question or needed help on a paper, they were there for me. There will be a lot of helping hands if I'm struggling."
The process currently underway to redirect NORTEP funding includes the establishment of an internal committee, which will meet with post-secondary education stakeholders. Between Nov. 28-30, the committee – which includes Jennifer Malmsten, Earl Cook, Morris Cook and Tammy Robinson – were presented with proposals from educational institutions seeking the program's funding. Those places are the NLSD, Northlands College, University of Saskatchewan, University of Regina, First Nations University of Canada and Gabriel Dumont Institute.
"I really think this is the wrong direction to go, but I'm biased because I've seen the benefits of the organization and I can't envision it in another manner, but that will be decided for us by Jan. 31, 2017," stated Malmsten, who is also acting president of the program. "NORTEP itself won't exist as of Jan. 31. It will regenerate, hopefully, into a better and stronger program. That's why we're doing this – we don't want it to die when it's been so influential in the North."
That influence was felt on a number of occasions during the 2016 Saskatchewan legislative fall session, as several NDP MLAs denounced the government's plans. Cumberland MLA Doyle Vermette presented a petition to stop the redirection of funding, while Athabasca MLA Buckley Belanger urged the province not to neglect their commitments.
"This valuable program has nurtured a generation of teachers in communities across the North – it's no secret this is where we need to continue to focus," Belanger announced during the opening session. "The Royal Commission on Aboriginal Peoples, the Truth and Reconciliation Commission and this government's own task force, talked about and pointed out, the type of work going on at NORTEP/NORPAC as the best way forward to improve the lives of indigenous people in the North."
Warren McCall, the opposition house leader, also voiced his frustration and told MLAs funding should be bolstered, not cut. In light of the string of suicides in October, he said changes don't make sense.
"Earlier in Question Period, we heard about some of the tragic things that go on in this province, particularly in the North," McCall remarked. "One of the institutions and groups of people, who have been on the frontline of fighting the lack of hope and despair that comes with the suicides we've seen over the past two weeks, has been NORTEP/NORPAC."
When the government announced funding would be redirected last August, it came as a shock to many considering the institution had signed a five-year agreement with the ministry of advanced education in September 2015. But, the contract was never guaranteed, minister of advanced education Bronwyn Eyre stated in an interview. She said a one-year deal was initially offered, but NORTEP officials decided to pursue a longer contract.
As for the future of the institution, Eyre wouldn't say if there would be an intake of students for the 2017-18 academic year, if all of the $3.4 million allocated to NORTEP will be redirected or if the level of library and students support will be maintained. She said making a promise to ensure those resources remain would be speculative, considering a stakeholder is yet to be chosen.
"Let's trust in this process," Eyre commented. "We've got to let the stakeholders meet with NORTEP council, and we've got to let NORTEP council come down with their recommendation before we get into speculation."
As for the equity issue, Eyre said there were issues with giving northerners – those who have lived in northern Saskatchewan for half of their lives – bursaries to complete post-secondary education. Eyre said changes to NORTEP would ensure northerners have equal opportunities.
"Students who are not funded by a band, who are still deemed to be northerners, are fully funded for the NORTEP/NORPAC programs," Eyre added. "And, that of course means free tuition, books and accommodations. It's wonderfully generous, but there are also equity issues with that, particularly considering – and this is crucial – that other northern students at other northern institutions, don't have the same opportunity."
As for the government's plan to train teachers and keep them in the North, Eyre pointed to the recently created Dene Teacher Education Program in La Loche, and the implementation of adult basic education and tri-trades programs. She also named Northlands College as an example of an institution with wonderful programming.
Next week part II – Anger, hope & help