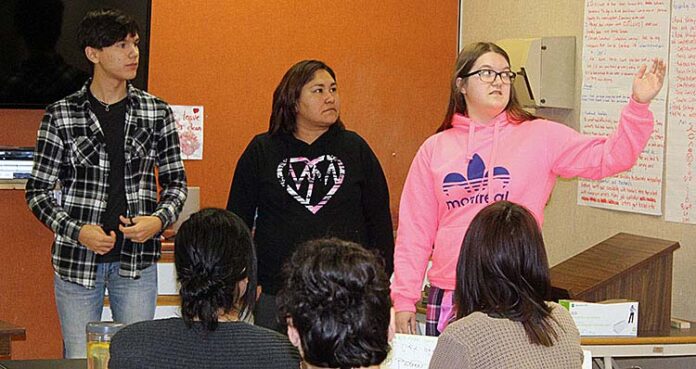 by Derek Cornet
In the second of a two-part series, northerners gain a better understanding about what's at stake with NORTEP's potential closure, and discover how the program is a source of hope for people throughout the region.
Anger, hope and help
For those living in northern Saskatchewan, the influence of NORTEP is seen everywhere.
That's according to Ruby Laliberte who lives in La Loche and teaches adult basic education for Northlands College. She earned a bachelor of education degree last spring and said she wouldn't have the confidence to do her current job if it wasn't for NORTEP.
"It angers me it isn't going to be available to other people in our small town communities," Laliberte stated. "You just can't take away a program that's 40 years old and has evolved into something so awesome. I don't know how someone who doesn't understand the program can just swing in and take it away from northerners."
According to the NORTEP & NORPAC Evaluation Final Report – a document created by a Manitoba market research company and released to the NDP through an access to information request – NORTEP is reaching its goals, but funding is lacking. It states the school is meeting its obligation to provide post-secondary education to northerners, it's providing northern employers with a trained and educated workforce and the learning environment is helping students succeed.
"There was consensus among students, faculty, staff and key informants that having the NORTEP/NORPAC programs has strengthened northern Saskatchewan communities," the report states. "The programs were perceived to have created community leadership capacity and role models/mentors out of graduates who come back to these communities to work as teachers or other professionals. It was felt that NORTEP/NORPAC programs were well established programs that 'bring hope to communities in the North.'"
Also, NORTEP acting president Jennifer Malmsten said staff and board members have worked hard during the last 40 years to make the institution successful. NORTEP's assets have steadily climbed as a result with the school purchasing two apartment blocks, and building an additional 16 condo units to support large families. Malmsten noted, those buildings are worth $12 million in addition to the $1.7 million the school has in library resources, $1 million in desks and computers, and another $60,000 for fleet vehicles.
"The NORTEP board will have to designate what happens to them (assets) and they haven't made a decision as of yet," she said. "We've managed our budget appropriately for 20 years – we've never had a deficit. We've managed to be able to fundraise and create 62 apartments for students, and their families, with no money coming from advanced education."
NORTEP also enjoys a high success rate in terms of students finding employment once they finish their degrees. In total, 100 per cent of last year's graduates are employed, while the five-year average is more than 90 per cent. The school also has more than 600 graduates who have either obtained a bachelor of education, masters of education or bachelor of arts degree.
"What more can they expect from our organization?" Malmsten asked. "We have a stellar reputation."
That reputation could fall on the shoulders of Gabriel Dumont Institute (GDI), as it was declared by NORTEP council Dec. 12 as their partner of choice. While Malmsten said council didn't want to divulge their decision, GDI executive director Geordy McCaffrey confirmed they were indeed recommended.
"We're really excited about having the opportunity to be involved in university and teacher training in the North," he commented. "We see NORTEP as an incredible asset for northern people."
While the ministry of advanced education still has to make the final call, McCaffrey noted GDI already spends $10 million per year in northern Saskatchewan. The institute also sponsors students with living allowances, tuition and books.
Meanwhile, Sheena Morin reiterated Malmsten's claim about the school's good reputation, noting it's educating people who are familiar with the North. She said importing teachers from Ontario isn't ideal because the kids will feel scared and intimidated by someone they've never seen before. And, as for NORTEP, it's given her the insight and ability to create everlasting change.
"It's not just the suicides – there are so many dropouts and so many kids on drugs," Morin remarked. "In my home community, now that I'm in this program, it triggers where I see all these problems. I just can't wait to get out there to help."