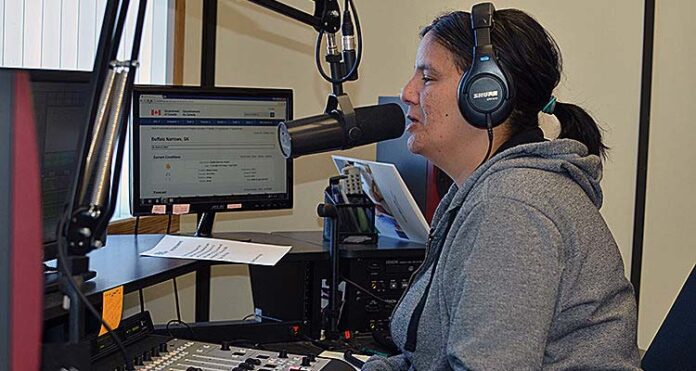 by Derek Cornet
A new radio tower in Buffalo Narrows will boost coverage up to 30 times.
That's according to CIBN manager Mike Bouvier who said the tower will provide 6,000 watts, an increase from the less than 200 watts the station had before. Currently serving Buffalo Narrows, Dillion, Michel Village and St. George's Hill, Bouvier said other northern communities will now be able to access its programming.
"We were leasing space from the Ministry of Environment," he said of CIBN's previous arrangement. "They have a tower just north of Buffalo Narrows and we were shooting a signal to it. We were given notice from them saying we might have to find other options."
Bouvier went on to say work to purchase the new tower began about a year ago and it involved working with Innovation, Science and Economic Development Canada. He stated CIBN already had the $200,000 needed to buy the tower as board members had budgeted for major projects.
"We were originally going to get a new building, but the one we're in is still fairly new, so we felt we didn't need one," Bouvier remarked. "This is a big opportunity for Buffalo Narrows. It's not about raising more money for us, it's about providing more information to the outlining communities as well."
Jamie Woods has worked at CIBN for 11 years as a full-time disc jockey. She's excited about the upgrade, but also anxious about covering a wider area.
"It's going to be very exciting because everyone will hear us all over and we'll be able to get more publicity," Woods stated. "I'm going to be nervous because usually I'm only broadcast in the area."
In Buffalo Narrows, Woods added the radio station is important because it provides up-to-date information should an emergency arise. She also said the bingos they host are also popular, but some of the players aren't happy about reaching more listeners.
"In the streets, some people will say they're excited and others aren't because of the bingo," Woods said. "A lot has changed here lately, but it's always for the plus."
A non-profit organization, CIBN employs six people and is operated by a seven-person board. Richard Petit is the current chairperson.