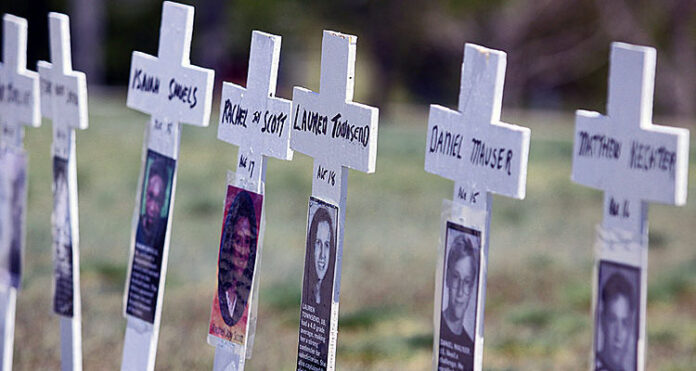 by Derek Cornet
With the one year anniversary of the La Loche shooting approaching (Jan. 22), a special guest arrived in the northern village to spread a message of hope.
"I told them I knew exactly what they were feeling because we were there 17 years ago," stated former Columbine High School principal Frank DeAngelis who retired in 2014. "The thing people feel, whether it's the shootings in La Loche or at Columbine, is one day you're going to wake up and everything is going to be back to normal. We had to redefine what normal is and they're working toward developing what it's going to be like after one year."
While the media gathered at the La Loche Community School Dene Building, DeAngelis spent one day last week speaking with teachers and answering any questions about his experience and how to move forward. Some of the topics DeAngelis touched on included post-traumatic stress disorder, as well as the importance of seeking a counsellor if need be.
The Columbine High School massacre occurred April 20, 1999 in Colorado and resulted in 15 deaths (including the two perpetrators who committed suicide) and 24 non-fatal injuries. DeAngelis was in his office meeting with a teacher when his assistant informed him of a report of shots fired.
"I originally said this can't be happening in our school," he said. "I thought it was a senior prank and I ran out of my office to see what was happening and go to the students. That's when I saw the gunman and he was about 50 yards away, and glass was breaking behind me as the shots were being fired. I ran right into the gunfire."
Then, DeAngelis said some students approached the area not knowing what was taking place.
"I ran to them immediately to get them to a safe place, and we were able to get into an area and lock the doors behind us before they were able to get to us," he remarked.
In the days after the shootings, DeAngelis described it as a state of shock, followed by disbelief and anger. Considering the killers took their own lives, he said people were looking for someone to blame. He also noted the difficulty staff had returning to the building in the fall.
"Going back into that building each and every day was very difficult for teachers and staff because they had to relive what they witnessed," DeAngelis continued. "They walked over bodies that were shot and pools of blood. It was very emotional for them to go back in and each day was a challenge."
One year after the La Loche shootings, DeAngelis believes residents of that community haven't received the help they need. He noted La Loche hasn't received near the assistance his school did, but added its location has a lot to do with it.
"Greg Hatch (La Loche Community School principal) doesn't have the administrative support he needs," DeAngelis continued. "I worry about the burnout and hopelessness they're feeling right now. For us, it was difficult, but we did see a light at the end of the tunnel and we knew there was going to be support."