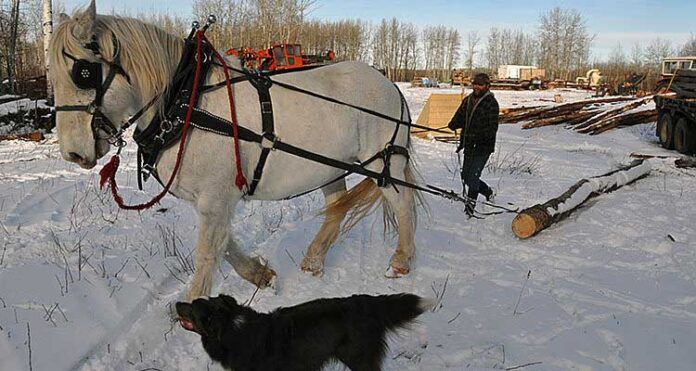 by Phil Ambroziak
Tradition lives south of Meadow Lake.
On his property near Rialto Road, long-time local resident Howard MacCuish operates his logging business by using a method not commonly seen in decades.
"I use my horses for skidding trees out of the bush," MacCuish said. "It's an old practice that no one really does any more, but I do it because I can. I have the horses and it gives them another thing to do around here."
MacCuish, who moved to the Meadow Lake area from Neilburg in 1966, started his own logging business in 1978. While it's not the only work he does, he said his personal sawmill is popular with friends, neighbours and nearby ranchers looking to purchase firewood or other lumber products.
"It's a lot slower with the horses, but still a great way to show people how things used to be done," he said. "They kind of quit using horses (because of improvements in technology), and I just started using them again in the last few years. I have a quarter section of land, but it's pretty well all forest."
While MacCuish owns several horses, he only uses three for logging.
"I have three Percherons," he noted. "They're a bigger and better breed for that kind of thing. They're a draft horse."
MacCuish also uses his horses to lead sleigh rides and during the summer months operates Tall Timber Trails, a riding business near Vivian Lake in the Meadow Lake Provincial Park, which started in 2004. He expects his logging business, however, to pick up again after winter.
"I'll be very busy here for the next little while, but will probably begin some logging work again in the spring," he said. "I did a little in the fall as well, but have to finish the work that pays me a little more at this time. When it comes to work, I'm known to do a little bit of everything."
While MacCuish's involvement with the Meadow Lake Provincial Park is mostly limited to his Tall Timber Trails business, park spokesperson Bob Wilson said horse logging was once practised in the park as well.
"It wasn't Howard, but back in the early 1990s, the park brought in Don Brown of Rapid View to do some horse logging," Wilson said.
Wilson went on to say Brown was interested in horse logging at the time and, when a major plow wind felled a number of trees in the park, it was an opportunity to throw some business his way while also conducting an experiment to compare volume and other results between horse logging and the more modern practice. The logs were hauled from an area west of Matheson Lake.
"It definitely produced lumber, but the volumes could not be compared to what a skidder can do," Wilson stated. "Today's world measures things by the economy, and that's what has to be taken into account."