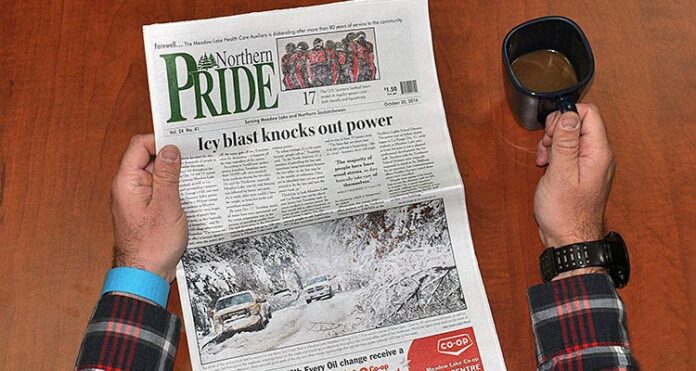 Mother Nature may be in a better mood this week compared to last, but winter's wrath continues to wreak havoc in Meadow Lake.
The latest example is the water line that feeds into Gateway Elementary School from the main beneath 5th Avenue West. The line broke around 6 p.m. Jan. 15 with repair work conducted throughout the following day. As a result, classes were cancelled Tuesday, much to the delight of students and to the dismay of some parents who had to scramble to find last-minute child care or possibly miss work to stay home with their children.
The Gateway incident isn't the only time city workers have had to deal with a broken water line this winter, however. A similar break occurred Jan. 9 on 7th Avenue West near the city-owned trailer court, while that same evening councillor Curtis Paylor alluded to several other breaks having also taken place in recent weeks. That discussion was held during the monthly meeting of city council.
To the uninformed, it would seem the city has a serious infrastructure problem. So many water lines breaking, so many people being inconvenienced, there just has to be something wrong with whatever hardware lies beneath the streets, right? Wrong.
It's been well documented by city staff, as well as information posted on the city's website, the various reasons why these problems indeed happen.
One issue can be the amount of snow cover on the ground and, aside from the freak storm experienced in mid-October, there hasn't been an overabundance of the white stuff out there this season. Instead, it's been cold… very cold, and fluctuating temperatures can also play a factor.
Meanwhile, a CBC News story recently reported Saskatoon and Regina both see about one water main break per day this time of year. This only further solidifies city manager Diana Burton's claim, even if the city had completely new water and sewer infrastructure, there's still a possibility of breaks happening. It has nothing to do with ageing infrastructure or "Meadow Lake not being a real city." It's simply a side effect of living not only in the North, but also in one of the coldest provinces in Canada.
You don't choose to live downstream from the nuclear plant without accepting the risk your children could be born with an extra limb or two, and you don't live in Saskatchewan without expecting it to be cold in wintertime and for that cold to take its toll. Don't like it? Leave, but don't complain and certainly don't pass judgement on one community when the fact of the matter is this sort of problem is not inclusive to Meadow Lake. It can happen anywhere.