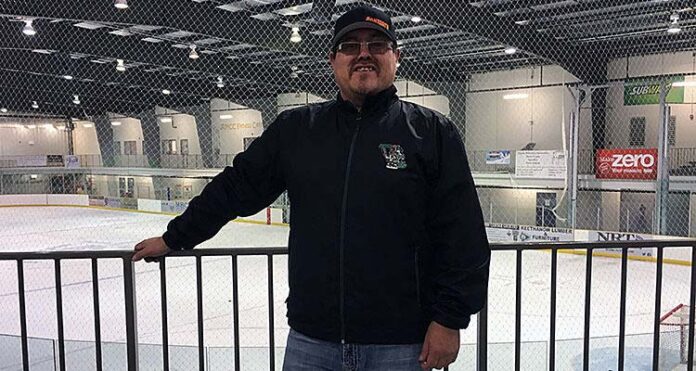 by Derek Cornet
Director of sport, culture and recreation for the Jonas Roberts Memorial Community Centre (JRMCC) since 2012, Kevin Roberts knows the meaning of the word dedication.
"I always had it in my mind I'd get involved with recreation, but it was sooner than I expected," he remarked. "I worked with the band in human resources for six years before I accepted the job as director. I also had a huge push by my boss to consider taking a transfer."
In the last four years, Roberts has overseen the centre as a $3.6 million expansion occurred in 2016, as well as the development of a fitness centre and youth centre earlier in 2013. The JRMCC – owned by the Lac La Ronge Indian Band – was first built in 2001 as a standalone hall, but it was enlarged significantly when an ice rink was added in 2005. The JRMCC is also the training facility for the La Ronge Ice Wolves and Roberts said it's the area's premiere sports, fitness and events facility.
"The goal is to have a place where we can provide opportunities," he explained. "It's about being involved in the programs we offer and getting adults and children involved with physical activity."
Every year, thousands of people walk into the centre for various reasons. While many people have celebrated their wedding in the hall, trades shows, conferences and fundraiser cabarets are also popular.
Many children on the reserve are also involved with the rink's minor hockey program, while the senior La Ronge 89ers of the Beaver Lakes Hockey League call the centre home.
Throughout the years, big names such as country music singer Charley Pride and the Montreal Canadiens Alumni team have entertained at the venue. Roberts said, last year, the facility hosted 152 events, not including regular programs and sport leagues. With so many events occurring at the facility, Roberts noted he works about 100 hours every two weeks but it's worth it.
"One of the reasons I give back a little bit more is because I didn't have the opportunity when I was a kid," he stated. "My parents couldn't afford the equipment and we didn't have a vehicle, so there was no transportation. I know a lot of the kids from here. I know their parents because I grew up with them. I know what they're home situation is like and I try give them a helping hand."
Roberts went on to say the JRMCC is open to anyone including residents from the communities of La Ronge and Air Ronge. He said all the schools are also allocated ice time free of charge to encourage more people to utilize the centre.