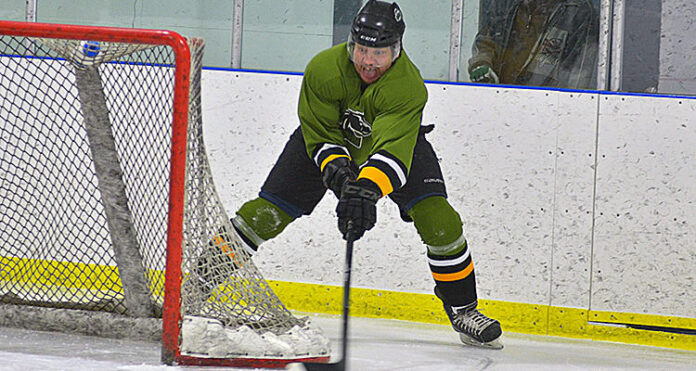 by Phil Ambroziak
The Meadow Lake Broncos are still the number one team in the Beaver Lakes Hockey League (BLHL).
That distinction was cemented Saturday night (Jan. 7) when the Broncos defeated the second-place Sandy Lake Chiefs by a score of 14-5 at PineRidge Ford Place on Flying Dust First Nation.
"We have four balanced lines and are able to just wear the other teams down," explained Broncos coach Lloyd Esau. "The game sheet may show it was lopsided, but it was actually a pretty close game. What doesn't show up on the game sheet is how they hit a cross bar and a post, and that it could very well have been 3-1 in their favour early in the game. Sandy Lake has a good team, but in the end we were able to take the wind out of their sails."
Saturday's encounter saw Meadow Lake take a 3-1 lead in the first thanks to goals by Kihisis Derocher, Tyler Wilson and Ashton McIntyre. After 40 minutes, it was 6-3 for the Broncos with additional goals by newcomer Alex Vidal, Brodie Brooks and Randy Lariviere. Sandy Lake would go on the score twice more in the third, but that's also when the game really opened up for Meadow Lake. Scoring in the third were Vidal with two more, Taylor Arnold with two, as well as single markers from Les Ludwig, Logan Pethick, Brooks and DJ King.
"It felt good to be back," King remarked. "I'm playing with the Broncos in the upcoming provincial competition, so it was important for me to get some skating in beforehand. You can't just go out there for an event like that and expect to pick up where you left off last year. You need to get your timing down and all sorts of things in order to play good hockey. As for Saturday's game, on paper I may look great but all I really did was get my feet wet. I have really good linemates who help me look good out there."
Once provincials is all said and done, though, King plans to stick with the Broncos for the remainder of their 2016-17 BLHL campaign.
"January is pretty much when I started playing regularly last year too because I have such a busy work schedule during outfitting season and leading into the Christmas break," the former NHLer added.
Esau, meanwhile, said he's excited about King's return.
"It's great to have DJ back," he said. "It just adds that much more balance any time you can get a quality player like him in the lineup. We also have a lot of great young players too, however, including Alex Vidal who was playing in one of his first, if not his very first, game as a Bronco."
He went on to say the balance of veterans and rookies also adds to the team's ongoing success.
"Our senior guys haven't forgot what it's like to be a rookie and they have been very welcoming to all our young guys," he said.
Currently, the Broncos boast a record of 9-0.
"I've been following the team this season and believe we're going to continue to be strong as things continue," King said.
This Friday (Jan. 13), the Broncos are on the road to face the last-place Moosomin before meeting Sandy Lake in a rematch Saturday (Jan. 14) at Flying Dust and then travelling to play the Chiefs again Sunday (Jan. 15) in Sandy Lake.