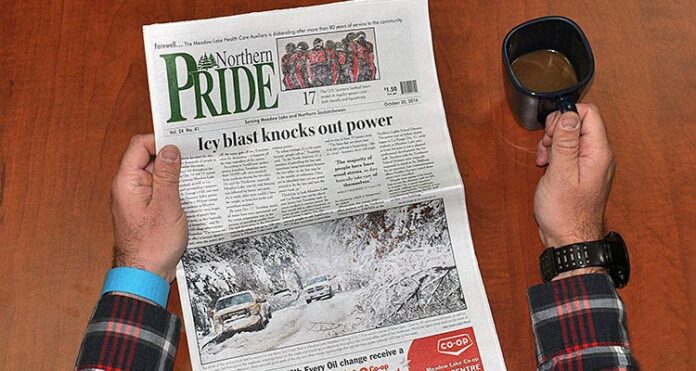 It's a new year and, for some Meadow Lake and area organizations, a new beginning.
Things are looking up for Royal Canadian Legion Branch 76 in Meadow Lake, as well as the Dorintosh Wildlife Federation when business conducted at two recent meetings left both groups with a fresh perspective on things to come.
In Dorintosh, hope for a better tomorrow comes in the form of a younger membership which has stepped up to the plate and offered to take on the various initiatives the club was known for being a big part of in years gone by. According to wildlife federation member Shaena Thomson, she – along with a number of her peers – are excited about the opportunity to one day bring back children's fishing days, public safety days, as well as a myriad of other activities that have fallen by the wayside as of late.
First and foremost, however, the club has already confirmed there will once again be a wildlife banquet held in the community. It's set for Feb. 4 at the Dorintosh Hall after being cancelled last year because of a shortage of volunteers.
Acting wildlife president Clifford Dallyn said the number of active club members had diminished to around six last year, but has since jumped to at least 16. He also said he's so impressed by the excitement the new members are exhibiting, he's confident the club will be in good hands when the old guard ultimately decides to walk away for good.
This certainly bodes well for the the next chapter in the club's history, a story that started in Dorintosh and area more than 30 years ago.
Meanwhile, at the Legion in Meadow Lake, some of the names and faces may have been around for a while, but the new branch executive established Jan. 5 is ready to do its part to turn around less than desirable membership numbers and to encourage more people to simply come out and learn what the Legion is all about. As Larry Heon, the branch's new first vice-president, put it, the Legion is more than just a bar. It's a community organization that, for years, has contributed to numerous initiatives throughout Meadow Lake and beyond. It also offers a variety of programming geared to all members of the public without losing sight of its primary purpose – to assist Canada's veterans.
In addition to Heon, the new executive includes president Terry Harris, second vice-president Garry Ratke, secretary/service officer Cheryl Dodds, treasurer Dennis Baldinus and sergeant-at-arms Chris Brownrigg among others. All have an active interest in the goings on at the branch and, if they can work together with current and new members, should have nothing but success when it comes to achieving their desired goals.
Here's to a brighter future for both organizations.