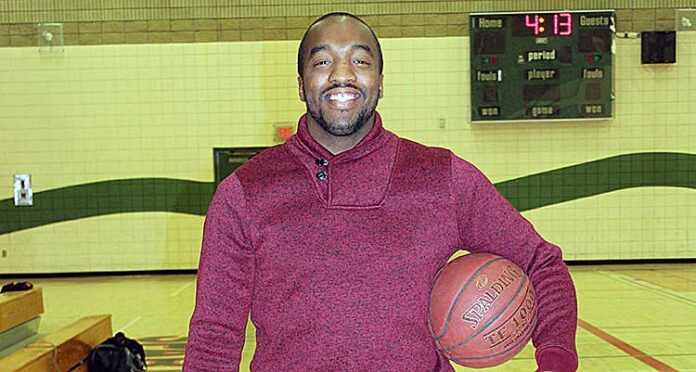 Currently in his second year of teaching in Meadow Lake, Gateway Elementary School educator Navanga Burke keeps himself busy. He coaches the Carpenter High School boys basketball team and recently spoke to Northern Pride about the upcoming Northern Lights Classic, his dedication to the sport and Ontario.
Q: Tell me about the upcoming basketball tournament.
A: The Northern Lights Classic at Carpenter High School will be our only home tournament of the year. There's a couple of 4A and 5A schools that will be here, as well as one team from out of province. Right now, it's an eight-team tournament. I don't know how we're going to do, but I hope we get some wins on the weekend. Before the December break, we attended a tournament in Alberta and did fairly well there. We lost two games by a total of four points, so all the games we've lost have been close. The games we won, though, have been by like 40 or 50 points. The team is young, but they're strong and competitive.
Q: What would be a highlight of hosting the event?
A: It's when parents and people at the school get to see what we've been practising. It's the first time they get to see us at home. We play our first game against Humboldt and this will be the first time Meadow Lake gets to see the Spartans play.
Q: What has been the team's focus leading up to the tourney?
A: My philosophy is I like to play a lot of defence, press the ball and run. Because they've been off for a while, we'll be getting back into the habit of running and pushing the ball. It will be about reteaching how to play our zone press and pressing. Some of the kids have been here throughout the whole Christmas break and they're going strong. I'll be teaching some of the old strategies we had going on and making sure nobody has forgotten anything.
Q: When do provincial playdowns take place?
A: I believe it will be in March. Everything kind of takes place in March where there will be regional and conference play, and depending on how we do there, we'll go on to the big dance, which is Hoopla. We have about seven more tournaments to go. I registered our team for 10 tournaments this year and I did it because I knew I had a group of talented kids who are young. I want to teach them the right things and teach them, so when it comes to their Grade 12 year, we'll be a force to be reckoned with.
Q: Where are you originally from?
A: I was born and raised in Toronto and my parents are both of Jamaican descent. It was different growing up in Toronto compared to Meadow Lake. It was very fast and rough, but I used basketball to get out of things. I played a lot of ball when I was younger and I was always told by my brothers basketball was the way out. I used it as my way to make it and get out of there. Moving from Toronto to Saskatchewan is a night and day difference, but I love every bit of it.
Q: What year did you graduate from high school?
A: In 2004. During that time, I was recruited to go play ball. Right away, I knew I wanted to play basketball at the next level, I just didn't know where. I wanted to go to university, but my grades weren't the best, so I went to college in Hamilton for two years and played ball. From there, I earned a scholarship to play in British Columbia. The only reason I went was because my younger brother went with me. But, in the second year when the guy who recruited me didn't come back, I transferred to Brock University in Ontario. While I was there, our team won a national championship. After that, I stopped playing and went to teacher's college. I played there as well and I was an all-star. I've played a lot of basketball, and when it was time to take it to the next step, I was finished. I couldn't do it anymore.
Q: Did you always want to be a teacher?
A: I wanted to be a coach before I wanted to teach, but in my second last year of teacher's college, I thought if I was going to coach, I may as well teach. It goes hand-in-hand and I always liked being in the classroom. When I went to church or at home at camps, I would always try to help out with the kids and wanted to give back. My vision was always, whatever I learned, I wanted to give back to the younger kids. I found a great way of giving back by doing it in the classroom.
Q: Are there other teachers in your family?
A: I come from a single-parent household, so my mom was a hard worker and took care of seven of us. My mom always told us, if we want to do anything, we have to do it the hard way and make sure we're not getting any handouts. She made sure everything we got, we did it by ourselves. I have two other brothers who went on to play professional basketball and they did the same thing I did. One is a trainer in British Columbia and he comes to the camp I host in the summer, and my other brother had professional contracts but broke his knee.
Q: When did you earn your bachelor of education degree?
A: In 2012. My first job was near La Loche teaching at the Clearwater River Dene Nation School. I taught Grade 7 there for two years. I started a basketball program there with boys and girls. I heard of La Loche because I knew the English teacher at the school at the time. She was friends with my fiancée and, through her, I heard about La Loche.
Q: Was it a shock going from Ontario to northern Saskatchewan?
A: I went from being a city kid who was never outdoors to going hunting, trapping, fishing and canoeing. I had never experienced that northern lifestyle. It was a big difference, but I enjoyed every bit of it.
Q: I understand you're now teaching at Gateway School?
A: I'm in my second year of teaching Grade 5. It's going well and I think being at Clearwater really prepared me for coming to Meadow Lake. Once I got here, the ball was rolling and things were good. I have no complaints, I love it.
Q: What's it like teaching and coaching at different schools?
A: It's a little different, but basketball is my passion, so it doesn't matter where I'm coaching. I'm used to having the kids in the classroom who need assistance, but the high school boys really just need direction. If I'm telling them something, they just need to be told once and they go off on their own. With the younger kids, I need to make sure things are being done correctly.
Q: Are you also coaching basketball at Gateway?
A: I help run the Gateway Griffin Slam and this year we're going to start the Steve Nash program at Gateway. I'll be taking the lead with it, along with principal Greg Ackerman, with Grades 5 and 6. They'll play in a tournament together with other teams from the North. I also have my club team where we travel out of province to play and those are Grade 5 and 6 students as well.
Q: Tell me more about your fiancée.
A: Her name is Alisha Edwards and she works as a human resource officer with the Northwest School Division. We don't have any kids, but we do have a dog named Gibson. We met in Ontario and we've been together for 12 years now. When I was teaching in La Loche, she got a job with the NWSD and, after that, I applied to the NWSD so I could come here.
Q: If someone was planning a trip to Ontario, what places would you recommend?
A: Niagara Falls, the Ripley's Believe It or Not! Museum and the Air Canada Centre in Toronto. I'd also recommend going to McMaster University because there's a nice overview of the city and you can see the Queen Elizabeth Way bridge going from Hamilton to Niagara Falls. It's a beautiful site. Also, on the higher floors of any of the universities, you can see the CN Tower. I'm a mellow city guy, so other than going to watch a game or a movie, I'm pretty low key.