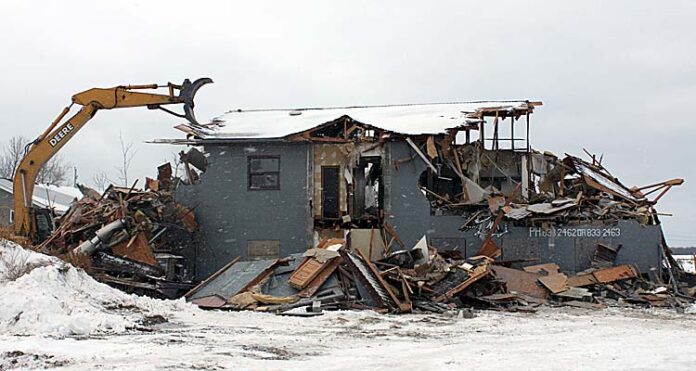 by Derek Cornet
The last structure of the Ile-a-la Crosse boarding school fell to the ground Feb. 22 to no longer serve as a reminder of the village's horrific past.
"We as a community needed to take a step in destroying this building, and hopefully get some healing and reconciliation for our community members and people from the Northwest," Ile-a-la Crosse mayor Daune Favel stated. "I hope it brings some healing to their lives, so they can move forward and live life in a happier way."
The building – which was constructed in 1962 – was used as the boys dormitory and replaced a former structure that burned down. Favel said, throughout the years, other sections of the school had been torn down and the former dormitory was the only remnant that remained. The building was supposed to come down last year, but the village encountered issues with the Ministry of Environment as to where the remains would be discarded.
There was no public ceremony held to commemorate the demolition, but Favel explained a symbolic tear down with survivors and Indigenous and Northern Affairs minister Carolyn Bennett served that purpose in September 2016. During that visit, Bennett spoke with survivors and heard their stories as to what took place there.
"People are hoping they get recognition they did go through the same kind of suffering as any other school in Canada run in the same way by the missionaries," Favel commented. "They're hoping the federal government would move forward with some sort of truth and reconciliation process."
A La Baie Métis Local president Jim Durocher was among the survivors of the school having attended during the 1940s. He didn't want to witness the destruction of the building, noting he's always stayed away from it because of the negative feelings it gave him. Durocher stated the building was later used as an alcohol and drug abuse centre before it was finally abandoned.
"The building represented a lot of negative things that have happened to aboriginal people over the years," he said. "It is the only building that was left that reminded people of those days."
As for a resolution to the injustice they experienced, Durocher stated the Métis National Council and the federal government will be meeting about the school soon, and he expects a positive announcement about it in the near future.