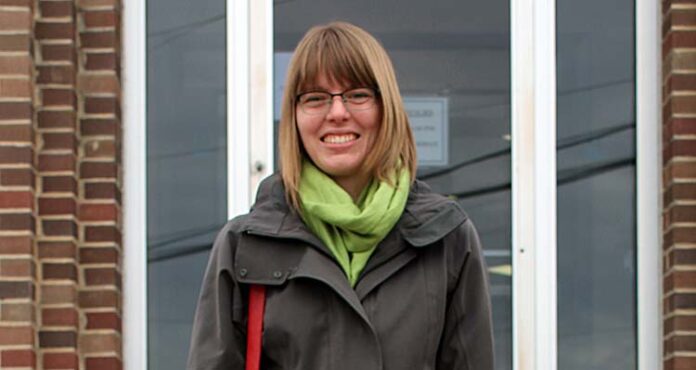 As Meadow Lake's city clerk, Jessica Walters has a lot of responsibility on her hands. Recently, Jessica spoke with Northern Pride about her role at city hall, her hobbies and her family roots.
Q: What are your thoughts about being voted best city employee recently?
A: I'm glad so many people think I'm doing a good job. It was a surprise and I definitely wasn't expecting it. I'm flattered people voted for me. We have a lot of great people working for the city and it could have been anyone who won. I'm very fond of Meadow Lake and try to do the best I can to serve our community.
Q: What are your duties at city hall?
A: I'm the city clerk. I moved into the position in the summer of 2015 when Cheryl Dodds retired. My job is to advise council of their legislative duties such as what they must do, can do and can't do. I also take the minutes at the council meetings and I'm responsible for the records. There's also stuff that comes out of council meetings, so I do the follow-up communications and background research. I help with reports on any items on council's agenda. I also act as the returning officer for any municipal election and respond the any Access to Information requests.
Q: When did you start your job?
A: When my husband, Lucas, and I moved to Meadow Lake in 2013, I was fortunate to be hired as the receptionist. I had been working for a couple years when Cheryl retired and she trained me to take over. I did have to apply for the job when it was announced she was going to retire. So, I shadowed her for a while and learned what the job entails. I also took a certificate program in local government through the University of Regina.
Q: Was this your dream job?
A: Not at all. It's a coincidence that led me here, but I'm happy. It's not one of those career options they tend to highlight for you as you are going through school, so it's not something I gave a lot of thought to before I started working here. However, I have found I really enjoy it. I like the variety and the challenges, and it actually fits fairly well into what I originally studied for in university, which was international studies, with a focus on eventually working in the non-profit sector somewhere. I've learned a lot about how governments work and about the importance of being as informed and involved as you can in the decisions your government makes at all levels. I definitely pay more attention to those sort of things than I would have before I started working.
Q: Where are you from?
A: I was born and raised in Meadow Lake and graduated from Carpenter High School in 2007. After high school, I went to the University of Saskatchewan for a year. I didn't have much of a plan and I realized quickly it wasn't a good idea to be there without one. Then, I went to a Bible study college in England for the next year and travelled quite a bit and met some interesting people. Following that, I went to university in New Brunswick to earn a bachelor of arts in international studies. I went there because they have a fantastic travel program and I got to spend a semester learning while travelling throughout Europe.
Q: Where did you meet your husband?
A: In New Brunswick. He was studying in the same school as me. He was doing a bachelor's degree in history and he stuck around and waited for me to finish. We decided to move because the economy there wasn't great and we thought we could make a go of it in Saskatchewan. It's really beautiful in New Brunswick, though, and we probably would have stayed if we could have found work.
Q: What brought you to Meadow Lake specifically?
A: When we decided to leave, it was a toss up between Ontario and Saskatchewan. My roots are here and his are there, and we decided job prospects were better here than in Ontario. So, we came because my family lives in Meadow Lake and we ended up staying.
Q: What was it like growing up in Meadow Lake?
A: I don't have anything to compare it to, but I like Meadow Lake. I'm aware it's by no means perfect, but there's a lot of good people in this community and a lot of people who look out for each other. We don't have the biggest or flashiest of anything, but it's a good place. Growing up, I spent all my summers in the Meadow Lake Provincial Park and that's still something I try to do.
Q: Your mother, Leanne Neudorf, is known for her painting skills. Are you an artist as well?
A: To a small extent, but it's not my thing. It's a fun hobby and I like the process of creating things. I don't paint as much as I should. I used to paint quite a bit, but I haven't in a while. It's an infrequent hobby.
Q: What activities are you involved in?
A: I've been paddleboarding for a couple years now. It's like canoeing, but you're standing up and only need one person. It's a big, long board that floats and you have to paddle. I like it because it's such a versatile way to explore the lakes and rivers and just be out in nature. We were looking for a water sport we could do together, and since we both liked it, we decided this was going to be it. When I got the city clerk job, to celebrate I bought a paddleboard.
Q: Have you done any racing?
A: I've participated in amateur races. It's a good sport to be part of because other people are welcoming regardless if you're a professional or don't know what you're doing. I find the community is fun to be around and encouraging. Last summer, we went on holidays to Yellowknife and there just so happened to be a race the day we were there. I finished fourth and that was a lot better than I was expecting to do because here there's nobody to race against, so I didn't know if I was any good or not. Paddleboarding is quite easy. You just have to have good balance and a willingness to fall into the water. Once you fall in a couple times, you're set.
Q: Any other hobbies?
A: I enjoy reading. I tend to favour fantasy and science fiction books, but I also like reading a lot of non-fiction. I read a lot of theology books because I find it to be an interesting topic. I just like reading a lot. I think it's a great way to learn to practice your empathy by reading a bunch of different perspectives. My favourite author is the late Terry Pratchett. His books are fantasy, but they're more of a satirical, political commentary than anything. I like how he had a gift for making readers laugh, while also making really insightful commentary on human nature.
Q: Tell me about your family.
A:  My parents, Dale and Leanne Neudorf, live in Meadow Lake. My mom stayed at home with my siblings and I when we were kids, but she started painting when I was in junior high school. My dad has worked at Meadow Lake Mechanical Pulp as a mechanic for several years. I have two brothers – Benjamin and Christopher. One lives in Saskatoon and the other lives in Prince Albert. Chris is a youth pastor and Ben is doing construction work.
Q: Any upcoming plans?
A: I'm off to British Columbia with a group of friends this month to go ski in the mountains. In Saskatchewan, there's only so much skiing you can do. We're going to Kimberley. I've never been there, but I hope it's fun. This holiday is something Lucas wants to do as well.