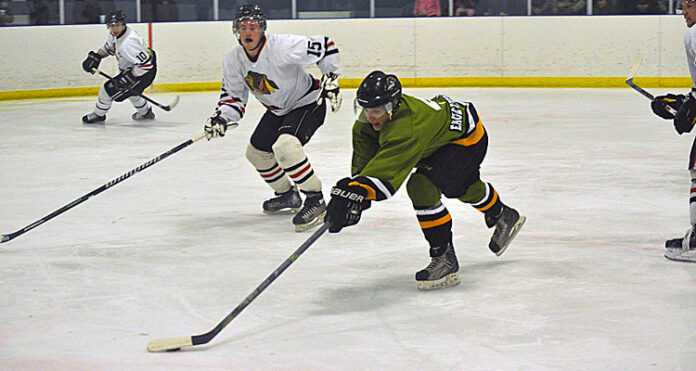 by Phil Ambroziak
Whether or not the Sandy Lake Chiefs will meet the Meadow Lake Broncos in this year's Beaver Lakes Hockey League final could be determined as early as this weekend.
First, however, the Broncos will have to earn back-to-back wins against the Big River Braves, the team it currently leads 1-0 in their best-of-five semi-final series.
"We stuck it out," remarked Broncos coach Lloyd Esau when discussing the Broncos' 7-4 win in Game 1 Saturday (Feb. 18) at PineRidge Ford Place on Flying Dust First Nation.
Coming off a disappointing loss at the recent Saskatchewan Hockey Association (SHA) Sr. 'A' provincials, the Broncos were looking to getting back to their winning ways. According to Esau, however, it was a little slow at first.
"Our guys outshot Big River, but, that said, it was still a 2-2 tie at one point," he noted. "It took us a while to get going, but we made it work in the end. We had four strong lines, but Big River also had a full squad. Overall it was a really good game."
In particular, Esau praised Big River goalie Jayden Watier for giving a strong performance.
"He's a young goalie who I used to coach a bit when he was in Midget hockey," Esau said. "He played very well and I'm happy for him. As for our team, it was nice to see how enthusiastic some of the guys were out there, especially some of them who didn't have a chance to compete at provincials. Guys like Tyler Wilson and Alex Vidal both had tremendous games, as did so many others."
Saturday's game saw Meadow Lake's Kihisis Derocher score a pair of goals while singles were added by Jordan Oystrick, Ashton McIntyre, Brody Brooks and Adam Mirasty.
Meanwhile, in terms of the Broncos' veteran players, Esau said, as far as the coaching staff is concerned, it's second nature to see them play well every time and serve as leaders and role models for the team's younger players.
"We never have to ask them to play – they come to play," he said.
Game 2 is set for this Friday (Feb. 24) in Big River while Game 3 is back at Flying Dust Saturday night.
"Sandy Lake is waiting for the winner of our series, but we have this weekend and the following weekend – if need be – to get things done, Esau said.
The Chiefs advanced to the final recently by winning their series against the Whitefish Flyers.