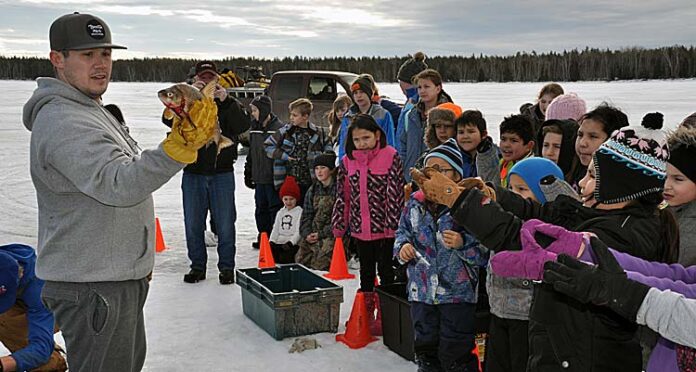 by Phil Ambroziak
True learning goes well beyond the classroom. That's something students at both Kopahawakenum School on Flying Dust First Nation and Meadow Lake's Gateway Elementary School came to understand recently when they attended a cultural camp hosted by Kopahawakenum and held at Flotten Lake in the Meadow Lake Provincial Park.
"Today is our winter cultural day," explained event organizer and Kopahawakenum physical education instructor Jon Mirasty during the Feb. 17 outing. "The reason I invited Gateway and some people from the Northwest School Division is to help build on our existing relationship. We need to have that bond in order to work together."
Gateway principal Greg Ackerman agreed.
"We're very honoured to be here and really thank Jon and Tim (Kopahawakenum principal Tim Biggins) for including us," Ackerman said. "The results of our school survey this year showed 67 per cent of our students come from an aboriginal background, so it's very important to learn about aboriginal culture and infuse it wherever we can in our school."
Ackerman also said it's a tremendous way for future Gateway students who currently attend the Flying Dust school to familiarize themselves somewhat with their peers at Gateway, as well as members of the Gateway teaching staff.
"We receive our students from three different schools, including Kopahawakenum," he added. "Moving to Gateway from Kopahawakenum is a huge transition for those students. Getting future students both familiar and comfortable with our school is very important. Provincially and division-wide too, aboriginal education is a huge goal. It's a very important goal and a big part of our learning improvement plan."
Mirasty, who once served as activities coordinator at Gateway, understands this.
"We've brought Kindergarten to Grade 4 students here today, and Mr. Ackerman brought some students from Grades 5 and 6 – it's a great outing prior to the vacation," he said. "I'd like to make it an annual thing."
Mirasty organized a similar outing while working at Gateway two years ago. It continued last year under the watchful eye of another organizer, but Ackerman said the latest incarnation may be the best ever.
"The first year, the kids had a chance to set and pull nets, and learned how to fillet fish with the help of Flying Dust elder Leon Matchee," he noted. "This year it's grown into a true cultural event. They've added a lot more activities including a number of First Nations games, which are a lot of fun for our kids."
In addition to pulling nets Mirasty and others set in the lake the night before, other activities included snowmobile rides, an antler toss, lessons on traditional hunting and gathering, snowshoeing and more.
Mirasty, meanwhile, said anything that promotes First Nations culture is a blessing for today's youth.
"A big thing is language, even for me," he said. "I'm a Treaty Indian, but I speak Cree vaguely. My grandfather is getting quite old, but he speaks fluent Cree. It's really important to better understand not only the Cree language, but also the Cree culture."
This was echoed by Biggins.
"We want our students to have a good identity in terms of where they're from, and to also understand literacy, language and communication doesn't come from the classroom all the time," he said. "Coming out on the land is a great way to get the conversation and the talking going. The kids are fully engaged, they're laughing and they're having fun."