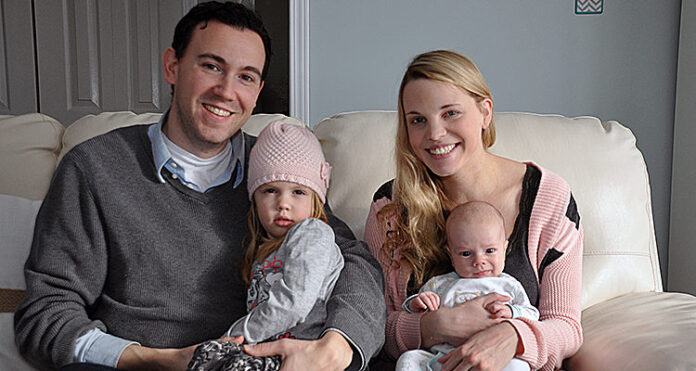 by Phil Ambroziak
Life changing.
Those are the two words Jake and Laura Brzovic are using to describe the amount of support they continue to receive from friends, family, neighbours and the community as a whole when it comes to their infant son, Leo, who recently underwent surgery to treat a rare medical condition.
"Leo was born at the Meadow Lake Hospital Dec. 15 and weighed seven pounds, eight ounces," Laura Brzovic explained. "That makes him just over seven weeks old now, but – when he was born – he didn't pass waste for the first 24 hours and the doctors and nurses basically had to extract it from him."
About a week later, when Leo became violently ill, his parents brought him back to the hospital where they were informed to get him to the Royal University Hospital in Saskatoon as soon as possible.
"Jake and I drove down, arriving around 2 a.m. Dec. 27," Laura Brzovic continued. "We were there for a week during which time a biopsy was done to confirm the doctor's suspicion Leo had Hirschsprung's disease. It's a somewhat rare condition – about one in 5,000 children are born with it – and we had certainly never heard of it before."
Hirschsprung's disease is a blockage of the large intestine that occurs due to poor muscle movement in the bowel.
"Like any new parent, we were definitely concerned at first because we really didn't know what that meant," Jake Brzovic noted. "Whenever you hear your kids has a disease of some sort, you always think of the worst case scenario. But, again, the doctors and nurses in Saskatoon were the same as in Meadow Lake – just awesome. They explained everything to us very quickly and said, although rare, it's common in the fact they deal with three or four a year throughout all of Saskatchewan."
Laura Brzovic, meanwhile, said they were relieved simply to have a diagnosis.
"As soon as we knew what it was and what steps to take in order to deal with it, it all became a lot easier and a lot more manageable," she said.
Her husband agreed.
"The doctors and nurses walked us through all the steps in terms of what was going to happen and how things would work until his surgery," he added.
In the weeks leading up Leo's surgery, the Brzovics were required to extract their son's waste four times a day to keep things moving and prevent him from vomiting. He began to gain weight and finally underwent surgery Jan. 25.
"The surgery was long – about five hours," Laura Brzovic said.
The operation required the surgeon to remove a piece of Leo's colon that was missing ganglion cells (a type of neuron). From there, a sample of his remaining colon was sent to pathology to ensure the presence of ganglion cells. Once this was confirmed, this part of the colon was pulled down and reattached.
"About five hours after his surgery, he was having bowel movements and passing gas," Jake Brzovic stated. "He came home Sunday (Jan. 29)."
Both Jake and Laura Brzovic are teachers and agreed the Northwest School Division, as well as countless others, have also been extremely supportive.
"The nurses and doctors in town, as well as those in Saskatoon, and just about everyone we know in the community here have been great," Jake Brzovic said. "One of the doctors who saw Leo in Meadow Lake even phoned to follow up because she was concerned with how he was doing. We had a real feeling of being looked after above and beyond what anyone would normally expect. We don't have family here and it was nice to know so many people were concerned for us and for Leo."
Laura Brzovic echoed this.
"I didn't feel alone – that's for sure," she concluded.