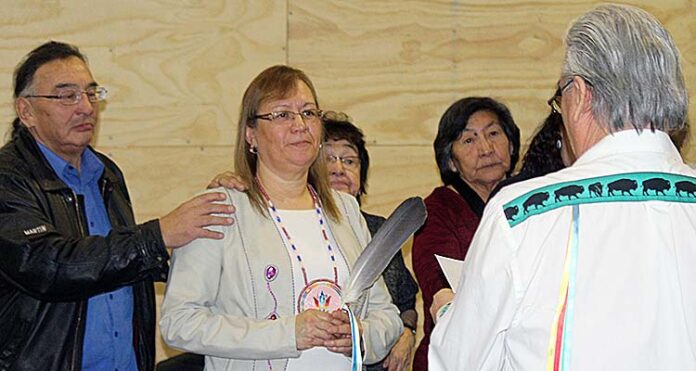 by Derek Cornet
In an effort to stomp out the root causes of social issues, the Waterhen Lake First Nation (WLFN) chief and council publicly passed a drug and alcohol test Feb. 7 to prove to members they're clean.
"We always talk about the social issues we have in our community and, in order to address those issues, we as leadership need to be the ones to pave that path so we can take care of our children in a more healthy and efficient way," said newly-elected Waterhen chief Joanne Roy. "It's a very good day and I'm proud of our elected leadership to take this step to be more accountable and transparent. I'm honoured to be part of this process, which is historic."
The swearing-in ceremony also included the first-ever public taking of the oath of office, as well as the signing of binding documents. Roy stated, in the past, those elements were privately done with the human resources department, but council wanted to share the occasion with residents. In the December 2016 election, voters returned Blaine Fiddler and Dennis Martell as councillors. They were joined by newcomers Dustin Ross Fiddler, Ableheza Ernest, David Fleury and Karnella Fiddler.
Among those in attendance Tuesday were Federation of Sovereign Indigenous Nations chief Bobby Cameron, as well as Meadow Lake Tribal Council chief Eric Sylvestre and vice-chief Dwayne Lasas.
In his speech to the audience, Cameron commended the WLFN council for moving forward with the test, which was completed by Makwa Safety Services. He noted, the FSIN executive passed a test in August 2016 and random tests will be ongoing.
"It keeps everybody honest," Cameron remarked. "You've got to work from the heart, and I know chief and council here today are doing that by taking this alcohol and drug test. This is the first community I've ever seen do this."
Cameron went on to describe his 20-year struggle with drugs and alcohol, adding he's been leading a healthy lifestyle for the last seven. He said, when people finally reach sobriety, life is better.
In the next couple of months, Roy stated council will begin community consultations with regard to the acts and policies the band currently has drafted. She said those aspects have been sitting stagnant for too long and people are becoming restless.
"We need to protect our treaty rights to sovereignty, which is ultimately establishing the foundation for our governance model," Roy commented.