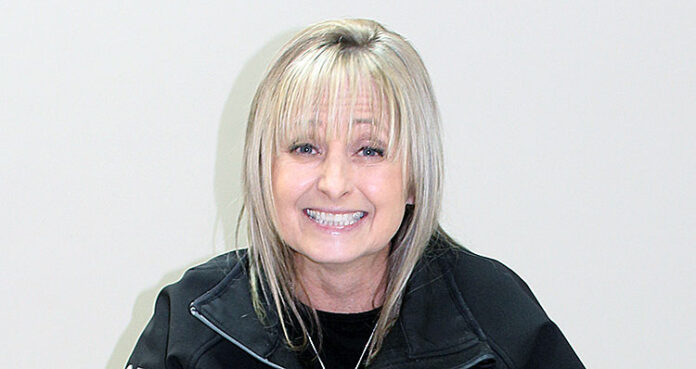 Belonging to a family with a passion for snowmobile racing, Barbara Heaver of Dorintosh said it's been an intense seven years. Recently, Barbara spoke with Northern Pride about straightline racing, the season so far and her family.
Q: How long has your family been involved with snowmobile racing?
A: It's been seven years and we're called Heaver Five Racing. It all started because my husband, Shawn Heaver, is friends with Dale Roger. Our three kids – Ty, Luke and Kaycee – also got involved. Our daughter was racing in juniors, but she's of age now so she's racing against all the big guys too. We all have our own sleds and our kids run in different classes. A lot of the time, my husband and daughter will compete against each other because they're in the same classes. It's fun to see that. Sledding is a fun activity we can do as a family. I don't like to race, so by being there I got involved with helping out.
Q: How often does your family compete in Straightline Snowmobile Racing Associate (SSRA) events?
A: We go every weekend. Unfortunately, the boys are working and our daughter is now in school, so they can only come for some. That makes it hard for Shawn because now he's jumping on to five sleds at a race. He's busy and does a lot of running in between races.
Q: How do you transport so many sleds?
A: At the races in Beauval, we took five sleds and used a big trailer to get them there. The trailer is more than 40 feet long. We can hold a lot of sleds in that trailer and we've also had a lot of fun with it. In the summer, we went to the mountains in British Columbia and took quads. There are also bunk beds into it, so we're able to sleep there and do whatever.
Q: What type of sleds does the family race?
A: My husband has all Yamahas and my son has an Arctic Cat, so he gets teased a little bit. My husband has owned Yamahas his whole life. I'm not really sure why. He does a lot of his own repairing too, so he's more knowledgeable on that end. Dale Roger is a good friend of Shawn's and he's also a mechanic, so we help each other out. And, that has to do with the whole circuit really. At a race, if someone is in need of a part, everyone goes scrambling and helps each other out. In a sense, we all become a big racing family.
Q: Do you only participate in SSRA events?
A: Yes. We have gone to the United States and we did do grass drags, but those were actually done of the dirt. It's called Hay Days in Minnesota and my family has actually won there. It's totally different because we had to cool the engines with water, whereas in the winter, there's the cold air going through. Those are also straightline races, but it's faster. We've been there three times now. The first year, my husband entered two races. In the first race, his sled came up and he got bucked off. But, he won the second race and ended up winning the championship that year. All this racing is very addicting. It's about the speed and the adrenaline rush. I tried it once, but it wasn't for me.
Q: What's your role during the races?
A: I'm at the board. I have a speaker and I'm told the results, which I then write on the board for first, second and third. I'm always in contact with Dale who is the one starting the races. The races are run on a timer system and it places them at the end automatically. With the computer reading the results, there's no arguing because just like any sport, there can be disputes about who got what. This eliminates those issues.
Q: How does SSRA racing work?
A: It's a point system if you're a member. You can be a member or you don't have to be. If you are a member, the points add up until the end of the year for a chance to win a championship jacket or another prize. Cash prizes are also awarded at each race. My family has done well, but we're definitely not in it for the money. It's not something you're going to make a lot of money at.
Q: How has the season been so far?
A: This year we're struggling with a lack of snow. Also, at our first event this year in Fort McMurray it was -35C, so it's been pretty cold. The cold is the only thing I struggle with. But, when it's cold, there's not as many people so I can see everything, which means I can cheer my family on. You also get to know more people and learn new skills. It's a competition, but sledding is also something to do on the weekend that's fun. You can do well, but there's always a chance your sled is going to break down in the middle of a race.
Q: Tell me about your family.
A: Ty is 25, Luke is 23 and Kaycee is 18. We've always enjoyed doing things together as a family. We've also been involved with 4-H because we have a cattle background. Fishing and camping is also an activity we've enjoyed as a family. With the sleds, it's a little harder now because not everyone can make it. Kaycee is currently in Saskatoon studying at a hair college, while Luke is on his first posting as an RCMP officer in Cardston, AB. That's only a half-hour drive from the U.S. border near Montana. Luke has wanted to do that since he was little. Ty works for Site Energy and he went to school for environmental and conservation reclamation. It's nice to see my kids grow up and be successful.
Q: Tell me about your rodeo background.
A: My husband and I team roped all our lives, but after we sold our farm, we began sledding. I met Shawn through team roping and we were friends for quite a few years. I didn't know him in high school because he was from Makwa, but we met through rodeos and we've been married since 1990. We only have one horse now, but we did 4-H for many years and raised cattle. We've been away from that for at least seven years. And, now that the kids are away, we're wondering what we're going to do next. Our life is always changing and I'm not sure how long the kids will be able to keep racing with us.
Q: Where are you from?
A: I'm originally from Brooks, AB. I moved to Meadow Lake when I was 14, graduated from Carpenter High School and now I live in Dorintosh. After high school, I went into dental assisting for quite a few years, but when I had kids, I was able to stay home with them. Currently, I work for the Ministry of Environment and I have the winters off. I work as support, which means looking after personnel, equipment, inventory, fuel and sometimes radio dispatch. Last year, we were really busy with fires so there was a lot of overtime and hopefully we don't see that again.
Q: What do you enjoy doing in the summer?
A: We go camping, fishing and quading. We're all about the outdoors. Living in Dorintosh helps because the Meadow Lake Provincial Park is at our back door. Waterhen Lake has always been a favourite of ours.
Q: Why do you like living in the Northwest?
A: I love the country and the freedom we have. It's quiet and there's a lot to do if you like outdoor stuff. The trees and the lakes are nice. The summers are also really nice.