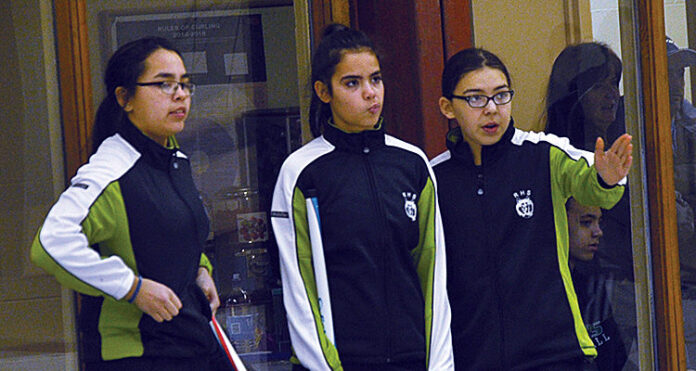 by Phil Ambroziak
Three high school curling teams from the Northwest have advanced to regional competition after a strong showing in Meadow Lake this past weekend.
Carpenter High School hosted the annual SHSAA district playdowns Feb. 4 at the Meadow Lake Curling Club and, when the final rock was thrown, the CHS mixed squad was crowned district 'A' champions.
"Our mixed team includes three Grade 12s and one Grade 10, and I believe they really benefited from playing on their home rink," explained CHS coach Kendra Paramchuk.
"They've been competing in league play here at the club every Thursday, so having more games under their belts also helps a lot," Paramchuk continued.
CHS team members include skip Jonathan Zuchotzki, third Jolene Bekolay, second Max Kurjata and lead Briattany Lennea.
Regionals will take place the first weekend in March in Saskatoon. Winners at the event will advance to provincials. The CHS mixed team won provincials two years ago and also competed at the event last year when the event was hosted by CHS and also held at the Meadow Lake club.
In addition to the host team, success was also garnered by the girls teams from Ernie Studer School in Loon Lake and Rossignol High School in Ile-a-la Crosse. This means both of these schools will also compete at regionals, while the district boys event saw St. Walburg take the win in the 'A' event and Edam win the 'B' title.
"What's exciting is our team hasn't curled very long at all this season," noted Ernie Studer coach Jody Freyman. "They didn't get together until early January and did not have any actual games before competing at districts. It was a little slow going at first, but once they figured out the Meadow Lake ice, they became much better."
Freyman went on to say her team was indeed surprised and excited about their success, adding members are looking forward to regionals.
Members of the Loon Lake girls team include skip Shayla Lantz, third Carlie McRae, second Caitlin McRae and lead Dante Carter.
"Our team played fairy well," commented Rossignol coach Dave Dalton. "We have a good, young team, but there's still room for lots of growth. Still, they performed excellently and are a good group of kids."
Ile-a-la Crosse team members include Erica Arcand, Delaine Kenny, Kenedi Dubrule and Cassidy Bouvier-Lemaigre.