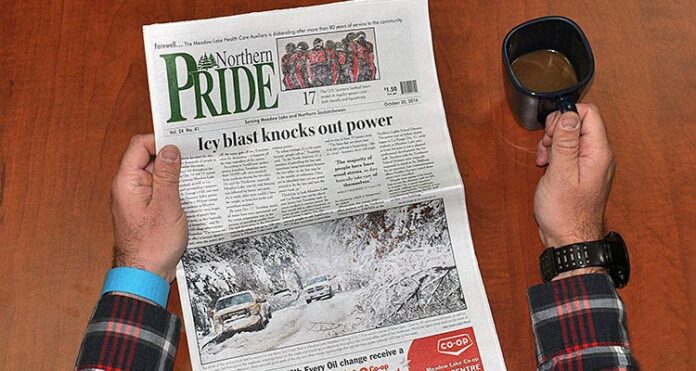 You're only as good as your competition.
In spite of an undefeated streak that lasted throughout both the regular and post-seasons, and winning back-to-back Beaver Lakes Hockey League championships this year and last, how good are the Meadow Lake Broncos really?
That's a question that may not be answered if the Broncos choose to continue competing in the BLHL, a league they've clearly dominated and one – in spite of its more than 40-year history – has obviously seen better days.
Sure, the Broncos were unbeaten – not counting Saskatchewan Hockey Association (SHA) provincials, of course – but that's because they went fairly untested throughout the 2016-17 season. With the departure of the Moosomin Warriors mid-season, the already diminished six-team league was reduced to five teams, many of which failed to bring full lineups with them when they visited PineRidge Ford Place on Flying Dust First Nation for Broncos home games.
Unfortunately for the Meadow Lake squad and its core group of dedicated veterans and eager newcomers, the options appear to be limited in terms of finding a more competitive league to call their own. Some former BLHL, as well as North Saskatchewan River Hockey League (NSRHL) teams, have found refuge in such associations as the Saskatchewan Prairie Hockey League and the SaskAlta Hockey League among others. But, it isn't always easy to secure a foothold in these leagues and, when teams do it, can sometimes prove to be more of a detriment than a benefit simply because of the large amount of travel involved. When teams are so widespread geographically, it makes it difficult to pick up and go in terms of away games.
This, however, doesn't mean to abandon the idea entirely. Hopefully Broncos management is considering its options and in some way, shape or form finds a way to make things work. Simply put, there's nothing left for the Meadow Lake squad to accomplish in the BLHL and, if things continue as they did this season, it will only lead to more and more of an overall letdown for players, coaches and, most importantly, the fans.
Meadow Lake is indeed a hockey town. This can easily be proven simply by how many young athletes are enrolled in the local minor hockey program, the number of professionals both past and present who have honed their skills locally and by the sheer number of fans who packed the Meadow Lake and District Arena recently for the Meadow Lake Selects-Montréal Canadiens Alumni game. Speaking of the arena, the Broncos will return next season one way or another and, when they do, perhaps it would also be nice if they would keep the Meadow Lake arena in mind as part of any changes they're looking to make.