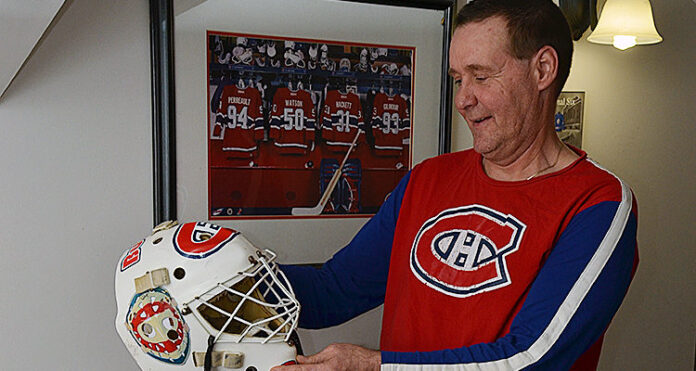 by Phil Ambroziak
A lifelong dream will become reality tonight for Meadow Lake's Richard Watson.
Watson, a rabid Montreal Canadiens fan, is one of 21 area residents who comprise the Meadow Lake Selects, the hockey team set to square off against the Habs' alumni team this evening (March 2) at the Meadow Lake and District Arena.
Although designed as a fundraiser for the new Northland Pioneers Lodge, as well as other local charities, for Watson it means so much more.
"It's a dream of a lifetime for me," Watson explained. "I may be 51 years old, but when I found out I was selected to play in this game, I was like a kid in a candy shop."
Watson has been a Canadiens fan since 1971. It all started, he said, when he was asked to serve as the goalie in a game of outdoor hockey with some of the older kids from his neighbourhood in Sault Ste. Marie, ON. The first shot fired, however, hit him in the nether region and he dropped to the ice in extreme pain.
"It's amazing how fast the pain went away, though, when those teenagers came up to me and said 'nice save, kid,'" Watson noted. "That's when I knew I wanted to be a goalie. Around the same time, the Chicago Blackhawks and Montreal Canadiens were in the Stanley Cup final and even though Chicago's goalie, Tony Esposito, was from my hometown, he caught with his right hand while Montreal's Ken Dryden caught with his left, just like I did. He became my idol and I've been a die-hard Habs fan ever since. I often wonder, though, if Esposito caught with his left, if I would be a Chicago fan today."
Watson has never played competitive hockey, so receiving the invite to play in the alumni game came as a genuine surprise and one he said he's continually grateful for.
"I found out a couple weeks ago the sponsorship was there to allow me to play as a goalie in the March 2 game," he added. "When I heard this, I was in absolute tears. I was so happy to learn I would be playing against a team of former Canadiens. When I got home, my wife wanted to know why I was crying, and I told her one of my all-time dreams actually came true. I know all of these (alumni) players and now I get to be on the ice, playing in a game of hockey with them."
Watson is one of three local goalies who will be a part of the game. Each will have an opportunity to play one period.
"I would be happy even to play for only five minutes," he continued. "I've already done my goalie mask up in a special way for the game and I've told the referee, whether I save the first shot or not, he's not getting that puck back. I'm going to keep it."
Meanwhile, another long-time Montreal fan looking forward to being part of tonight's game is Waterhen Lake First Nation's Alcide Martell. At age 57, Martell grew up playing hockey on the local reserves and has played competitively over the years, mostly in tournaments. Today, he's a member of the Waterhen Senators, an old timers' squad he said is helping him prepare for the big night against some of his childhood heroes.
"Seeing as it's a charity game, I couldn't turn down the opportunity," Martell said. "I've also been a Habs fan since I was seven or eight years old – back when they were winning all those Stanley Cups."
A forward on the Meadow Lake Selects roster, Martell said he simply can't wait for the puck to drop.
"It's going to be fun and I know I will enjoy being on the ice with these former Canadiens," he said.
Martell concluded by reiterating Watson's point about dreams coming true and encourages today's young people to never lose sight of theirs.
"I want the kids today to always practice hard and play hard," he said. "And, I want them to stay away from drugs and alcohol. They have to stay away from these things if they want to get somewhere in life."